The SDT.03 (Standard Development Team) work group of the SGET Standardization Group for Embedded Technologies e.V. has officially adopted Version 1.0 of the SGET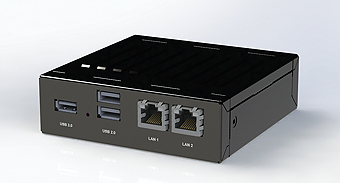 embedded NUC™ specification, its first standard development.
embedded NUC™ is based on the compact Intel® NUC system (NUC: Next Unit of Computing), which combines a wide range of PC functions in an extremely slim format. With its 10 × 10 cm baseboard, in particular Intel® is targeting consumer applications such as home theater systems, digital jukeboxes and gaming appliances as well as space-saving solutions for the home office.
As this PC power in such a compact format presents a highly attractive solution for industrial applications, the SDT.03 was founded within the standardization consortium to make NUC operational for the embedded industry. Version 1.0 of the specification – and, of course, this applies to future advancements – will be transferred into an open standard according to the statutes of the SGET e.V.
"NUC is a success story both in the industrial as well as the consumer markets," comments Martin Steger, Chairman of the SDT.03 and Managing Director of the ies GmbH & Co. KG. "The standardization of embedded NUC™ paves the way for a major success. Within less than 12 months, the SGET has managed to progress from its first considerations of the specification to achieving a resilient specification for embedded NUC™, and even kept it to such 16 pages." Engelbert Hörmannsdorfer, Chairman of the SGET e.V., is also pleased with the results: "Just on announcing that SGET e.V. was working on a future standard for embedded NUC™, inspired many new members to join."
ies GmbH & Co. KG has already been offering its own NUC boards for Qseven or SMARC modules since the end of 2013. With the passing of the embedded NUC™ standard, Martin Steger is now expecting a further boost in interest: "Whether for industrial applications, Internet of Things or small customized server formats – with embedded NUC™ we have something similar to a historical chance to develop an open industry standard which puts emphasis on the customer benefit while at the same time takes further development potential into account."
At the coming industry trade fair 'embedded World 2015', SGET expects visitors to be able to view several working samples of the first boards according to the newly approved embedded NUC™ specification.
SGET (Standardization Group for Embedded Technologies)
www.sget.org