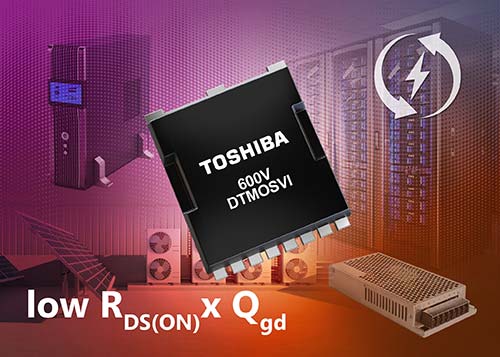 Toshiba Electronics Europe GmbH ("Toshiba") has introduced a new series of N-channel power MOSFETs. The first product in the 600V DTMOSVI series is the TK055U60Z1, which is based on Toshiba's latest-generation process with a super junction structure.
The new MOSFET features an RDS(on) of only 55mΩ – a 13% improvement over similar devices in the company's established DTMOSIV-H series. In addition, the RDS(on) x Qgd, which is the figure of merit for MOSFET performance, is improved by approximately 52%. Target applications include high-efficiency switching power supplies in data centers, power conditioners for photovoltaic generators, and uninterruptible power systems.
The new product employs the popular TOLL package, which features a Kelvin connection for the signal source terminal. As a result, the source wire's inductance has less impact, reducing switching oscillation, which enhances switching performance when the MOSFET operates at high gating speeds. The applied pin shaping ensures proper solder connections, increases mounting reliability and makes visual inspection easier.
The maximum channel temperature (Tch) of the new product is 150°C. The typical RDS(on) of 47mΩ is specified at a gate-source voltage of 10V.
Typical total gate charge (Qg), gate-drain charge (Qgd) and input capacitance (Ciss) are 65nC, 15nC and 3680pF, respectively. These factors will allow the new device to switch at the fastest possible speeds.
Toshiba will continue expanding its 600V DTMOSVI series lineup, and the already released 650V DTMOSVI series products, to support energy conservation by reducing power loss in switching power supplies.
For more information on TK055U60Z1 power MOSFET, please visit https://toshiba.semicon-storage.com/eu/semiconductor/product/mosfets/400v-900v-mosfets/detail.TK055U60Z1.html