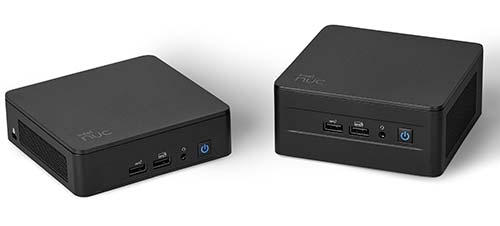 "Next Unit of Computing" – offered by the new Intel® NUC 13 Pro Mini PCs, kits, and boards, which are suitable for a wide range of applications in 24/7 operation. The Mini PC with the proven 4″ x 4″ form factor contains up to 14 processor cores (6P and 8E) with a 64 GB dual-channel DDR4-3200 memory and a maximum speed of 2.5 Gbit / s thanks to Intel® i225-LM Ethernet. Selected SKUs with Intel vPro® Enterprise technology additionally convince with comprehensive security and stability and hardware-based remote management. For the first time, Intel® guarantees 5-year product availability to minimize revalidation needs and rounds out the feature set with the Intel® 3-year warranty. The Intel® NUC 13 Pro Mini PCs, kits, and boards provide the perfect combination of performance, connectivity, and reliability for a wide range of automotive, industrial, or medical applications and are available at www.rutronik24.com.
The NUC 13 Pro Mini PCs are powered by Intel Core i7, i5, or i3 processors of the 13th generation. There are also slots for a PCIe x4 Gen4 NVMe SSD and another memory card in the Mini PC. Selected product lines support a third SSD additionally.
In addition to the professional performance of up to 14 processor cores, the i7 1370P processor also offers, for example, 20 threads, 24 MB Intel® Smart Cache and 35 W TDP. Furthermore, an Intel® Ethernet port enables exceptionally fast wired and wireless connections with up to 2.5 Gbit / s and Intel® Wi-Fi 6E (Gig+)1.
For connecting up to four 4K displays, the mini PC features two HDMI 2.0b. It also has two Thunderbolt™ 4 ports, three USB 3.2 ports, and one USB 2.0 port. The proven Intel® Iris® Xe or Intel® UHD graphics cards ensure an optimal visual experience.
 More benefits at a glance:
Edge Computing – Ideal for digital signage, digital kiosk systems and intelligent vending machines
Productivity – Impressive performance for business computing
Reliability – Built for 24/7 operation
Collaboration – State-of-the-art wired and wireless connectivity for video conferencing and huddle rooms
Display support – Connect up to four advanced 4K displays
Application examples:
Transport: Autonomous and electric vehicles
Healthcare: Medical imaging equipment, workstations
Industry: Process monitoring, industrial gateways
Education: Smart boards, interactive displays
Logistic: order picking, quality assurance
 For more information about the the Intel® NUC 13 Pro Mini PCs, Kits and Boards and a direct ordering option, please visit our e-commerce platform at www.rutronik24.com.