Get the chance to review the latest development kits from Farnell suppliers! To test the featured development kits you will need to apply through the RoadTest group on element14. The group can be found here www.element14.com/roadtest. The element14 group provides an easy way to register for these tests and many others, and also a convenient place to leave reviews after you have finished the test. To apply, register or log in at the element14 site, go to the link for the kit you wish to test and choose the attend option on the right hand side of the page.
This time two development boards from two of the biggest names in semiconductor manufacture, Freescale and Microchip. Freescale has given us ten of the company's KwikStik development tool for Kinetis microcontrollers, while Microchip has donated five MRF24J40 8-Bit, 2.4 GHz Wireless Development Kits.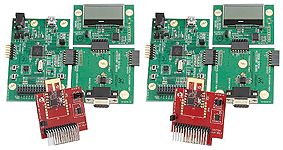 Microchip MRF24J40 8-Bit, 2.4 GHz Wireless Development Kit
Microchip's 8-Bit, 2.4 GHz Wireless Development Kit – the MRF24J40 (DM182015-1) is an easy-to-use evaluation and development platform for wireless application designers. This kit includes Microchip's MRF24J40 transceiver module and also features Microchip's PIC®18 XLP microcontroller family. The kit has complete hardware needed to rapidly prototype wireless products. The demonstration kit is pre-programmed with MiWi™ protocol stack and you can find the demo instructions in the user's guide.
The PIC18 demonstration board is equipped with a PICtail™ connector to interface with Microchip's wireless transceiver PICtails such as MRF24J40MA, MRF89XAM8A and MRF49XA PICtails.
With programmers such as PICKit3™ or MPLAB® IDE ICD3, the developer can reprogram or modify a PIC18 MCU Flash memory and develop and debug application code all on the same platform. Microchip MPLAB® IDE software is available for download on the Microchip web site at no charge. The 8-Bit Wireless Development Kit – 2.4 GHz MRF24J40 is a great development tool to develop wireless application. To learn more about MiWi™ wireless protocol, please visit www.microchip.com/MiWi.
Note: This kit is not intended for ZigBee® development.
Features
Key features of "8-bit wireless development kit – 2.4GHz MRF24J40" include
• MiWi™ stack support – MiWi™, MiWi™ P2P and MiWI™ Pro
• PIC1846J50 MCU featuring nanoWatt XLP Technology for extreme low power, 64 KB Flash memory and robust integrated peripherals
• Microchip MRF24J40MA RF module which is FCC/IC/ETSI certified with PICtail™ connector
• Temperature sensor Portable – powered by battery
• LCD display to develop interactive wireless demos (Removable for low power)
• Board can be powered by one of the following
– AA batteries
– 9V power supply
– External Power supply
– USB
• RS232 Serial Accessory board – for debug purposes
• Can support other radios – both in 2.4GHz and Sub-GHz frequency range through PICtail™ connector
Kit contents
The MRF24J40 development kit contains two PIC18 Wireless Development Boards, two MRF24J40MA transceiver PicTail™ daughter cards, two Serial Accessory boards, two LCD Accessory boards and for connection, two Mini USB cables and two RS232 cables.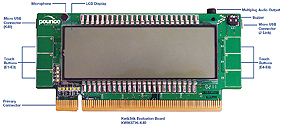 Freescale KwikStik development tool for Kinetis microcontrollers Freescale's KwikStik is a low-cost, all-in-one development tool used for evaluating, developing and debugging with Freescale's Kinetis line of microcontrollers (MCUs) built on the ARM Cortex-M4 core. Complementing the larger Freescale Tower System development platform, the KwikStik provides an additional toolset option in a small-form-factor design for developers using Kinetis MCUs.
All-in-one development tool
The KwikStik combines a J-Link debug probe, low-power touch sensing, a segment LCD user interface and a suite of development and run-time software. It is designed to be used in several ways – as a standalone, battery-operated tool for development using the on-board Kinetis K40 MCU; as an additional tool with the Tower System or as a J-Link debugger. By combining the KwikStik with the Tower System, developers have access to multiple system expansion options using Freescale and third-party peripheral modules that offer sensing and wireless and industrial connectivity (including Wi-Fi).
The integrated SEGGER J-Link debug interface eliminates the need for a separate debug probe, providing a significant cost saving.
Easy to use
The KwikStik offers a range of lowpower, mixed-signal, human machine interface and connectivity and communications peripherals. The Kinetis K40 MCU at the core of the KwikStik features 256 KB of on-chip flash memory and an equivalent amount of FlexMemory, allowing ample space for application code. The bundled Processor Expert tool supporting Kinetis MCUs helps designers write application code for even complex software requirements.
Using Freescale's Processor Expert auto-code generator, developers can quickly build their own custom peripheral driver library, optimized and validated to their needs. This feature, embedded within the Eclipse™-based CodeWarrior 10.1 integrated development environment (IDE), simplifies a developer's software architecture and can reduce development time.
Powerful software bundle and support
Kinetis MCUs are supported by the CodeWarrior 10.1 IDE with a complimentary C compiler, supporting up to 128 KB of object code. Additional IDE options are available from IAR Systems, Keil, Green Hills and CodeSourcery. All Kinetis MCUs are also supported by the complimentary Freescale MQX real-time operating system with integrated scheduler, file system, TCP/IP and USB stacks, as well as support for graphic LCD and encryption plug-ins. Thanks once again to Freescale and Microchip for letting us have these kits for testing. If your company produces development boards and you wish to take part in the RoadTest program, please email Farnell at editor@premierfarnell.com to request it.

www.element14.com

www.farnell.com