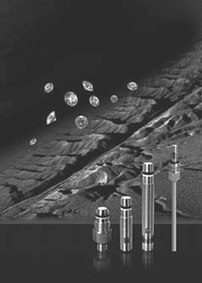 Thanks to continuous innovation, the hydraulic and pneumatic industries have developed into new application fields. The decisive factors here were miniaturization and increased dynamics, combined with increased working pressure.
In order to meet the requirements of these sectors, CONTRINEX offers high-pressure-resistant sensors in miniature format (sizes M5 and M8) for monitoring and controlling pistons.
Failures of high-pressure-resistant sensors result in substantially higher costs compared to standard sensors, since exchanging them is much more complicated. Due to the remarkable properties of the CONTRINEX sensors, it is possible to reduce maintenance costs by a factor of 50 compared to the market standard.
Thanks to their high quality stainless-steel housing and robust ceramic disk, combined using a patented process, it is possible to isolate the high-pressure at the sensing face from the sensitive electronics. As a result, the latter are not exposed to the shocks caused by dynamic pressure cycles. This allows a peak pressure resistance of 1000 bars and resistance to dynamic pressure cycles.
With their unique product characteristics, CONTRINEX high-pressure-resistant sensors are the best solution for applications in the hydraulic and pneumatic industries.
CONTRINEX miniature sensors are synonymous with:
• High performance
• Extended functionality
• Miniaturized housings
… and offer customers decisive advantages:
• Reduced maintenance costs
• Reliable and robust solutions
• Increased piston lifespan thanks to collision avoidance at the end of the operating cycle
• Reduced operating noise
• Avoidance of pressure peaks
O'Boyle

www.oboyle.ro