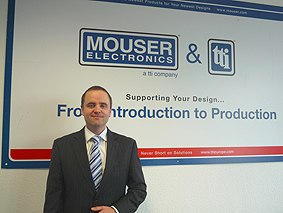 TTI, Inc., the global distributor of Passive, Interconnect, Relay & Switch and Discrete components, has announced experienced industry figure, Felix Corbett as its new Director of Supplier Marketing, responsible for Passives and Discrete Components in Europe.
Commenting the appointment, Geoff Breed, Vice President, Marketing, TTI Inc., said: "With the enormous growth TTI experienced last year we are delighted to welcome Felix to our team with his extensive experience and strong communications and supplier skills. We know he will add value to our organization and to our passive and discrete component supplier partners by working closely with them, coordinating our activities and developing strategies for development and tactical engagements. He will provide a strong supplier focus working together with our sales and product organizations to enhance our already-strong supplier relationships and management of supplier plans."
Corbett joins TTI from Abacus Avnet. Previously he worked for Panasonic and Arrow, so he is highly experienced in both distribution and manufacturing. "We have high expectations that 2011 will be another very successful year for the European electronics industry, and I am delighted to be joining such a great company at this exciting time", he adds.
TTI, Inc.

www.ttieurope.com