Silicon Labs introduced the industry's most advanced automotive tuner IC family designed to deliver best-in-class AM/FM and HD Radio/DAB/DMB digital radio performance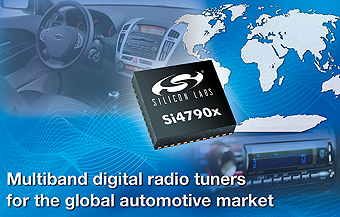 for demanding car radio systems. Silicon Labs' next-generation Si4790x tuner IC family delivers a new benchmark for car radio reception performance while delivering the lowest system cost. The Si4790x family also provides exceptional flexibility and scalability for Tier 1 automotive infotainment suppliers and aftermarket car radio makers worldwide.
The Si4790x family leverages Silicon Labs' patented digital low-IF architecture and RF in CMOS technology pioneered more than 12 years ago. Silicon Labs introduced its first single-chip broadcast audio IC products nearly 10 years ago, redefining how AM/FM tuner ICs were designed into analog-intensive consumer electronics products by providing a highly integrated solution that reduced component count by more than 90 percent and board space by more than 60 percent. To date, Silicon Labs has shipped more than 1.2 billion "radio-on-a-chip" ICs, culminating with the introduction of the Si4790x family, the industry's most advanced automotive tuner IC.
The superior linearity of the Si4790x tuner's integrated RF front-end, combined with a comprehensive AM/FM firmware running on a high-performance on-chip radio DSP, sets a new bar for key automotive radio metrics such as sensitivity in weak signal environments, selectivity in the presence of blockers, and immunity to multipath fading and distortion.
According to IHS Automotive, global automotive sales reached nearly 83 million vehicles in 2013 and will climb to 85 million vehicles in 2014. Many of these vehicles feature sophisticated infotainment systems with multiple tuner ICs and antennas to deliver FM phase diversity reception, receive Radio Data System (RDS) data for info-navigation systems, and support digital radio standards such as HD Radio prevalent in the U.S. market and Digital Audio Broadcast (DAB), the leading European standard. To address today's global market, the Si4790x tuner family supports all worldwide broadcast radio bands including AM/FM, longwave (LW), shortwave (SW), NOAA weather band, FM RDS decoding, and AM/FM HD Radio and DAB reception (Band-III and L-band).
Silicon Labs
www.silabs.com/pr/automotive-tuner