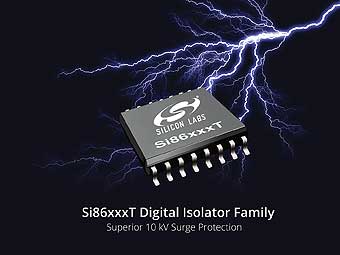 Silicon Labs introduced a new family of multi-channel digital isolators featuring a high-voltage isolation barrier designed to withstand 10kV surge hits. Based on Silicon Labs' proprietary capacitive isolation technology, the new Si86xxxT digital isolator family provides robust protection against secondary lightning strikes and increases system reliability in a wide range of demanding industrial applications.
Silicon Labs' Si86xxxT digital isolator family delivers the industry's fastest, most accurate timing specifications, highest noise immunity and reliability, lowest electromagnetic noise emissions and longest lifetimes under high-voltage conditions. The Si86xxxT digital isolators are ideal for applications that must withstand a 10 kV hit such as microinverters, base station power supplies, process manufacturing equipment, motor controls and drives, industrial uninterruptible power supplies, metering equipment and battery management systems for electric vehicles.
Developers of industrial applications expect reinforced isolation products to provide fail-safe protection from secondary lightning strikes, especially in applications where equipment is installed outdoors and where exposed cables or wires are vulnerable to lightning. In addition to requiring surge ratings of up to 10 kV, industrial equipment developers also demand isolation products with fast timing, high noise immunity, long lifetimes at high voltages, and a wide VDD and temperature range.
Silicon Labs
www.silabs.com