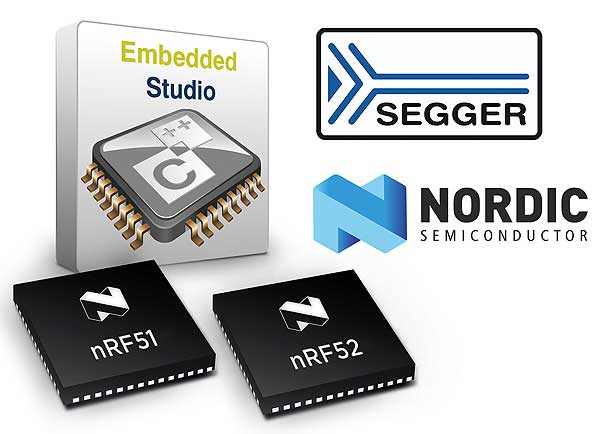 SEGGER Microcontroller has announced that, through close collaboration with ultra low power (ULP) RF specialist Nordic Semiconductor ASA, it has been able to make SEGGER's professional cross platform integrated development environment (IDE)  Embedded Studio available for free to all Nordic Semiconductor customers.
The agreement signed between SEGGER and Nordic Semiconductor entitles Nordic customers to use Embedded Studio with any Arm Cortex-M based device in the popular nRF series of wireless SoCs without any charges being accrued. Embedded Studio is a complete all-in-one solution for managing, building, testing and deploying embedded applications. It supports everything from a powerful project manager and source code editor, included C/C++ compilers based on GCC, as well as CLANG/LLVM and an integrated debugger with advanced debug information windows and direct J-Link integration, right through to version control features for automatic deployment of finished applications.
Support for SEGGER Embedded Studio has been added to the latest release of the nRF5 SDK. Examples that enable customers to start development with working code right out of the box. In general, Embedded Studio is the powerful C/C++ IDE for Arm based microcontrollers. It is a cross-platform solution supporting Windows, macOS and Linux. Embedded Studio is specifically designed to provide users with everything required for professional embedded C programming and development. It presents the market with a complete solution, delivering stability and a continuous workflow.
Embedded Studio offers a high degree of flexibility, since the user can choose between the Clang/LLVM or GCC C/C++ compiler options (both of which are included) or even employ third party compilers. The powerful project manager even manages industrial-scale projects, making it easy to analyze and debug your system in no time.
"Our goal is to provide the best possible development solution for our nRF devices. With SEGGER's powerful cross-platform IDE Embedded Studio we found exactly what we are looking for to cover coding and debugging efficiently and easily. We have been partners with SEGGER for years, using J-Link technology in our kits. Adding Embedded Studio was a natural step for us," says Paal Kastnes, Technical Marketing Manager with Nordic Semiconductor.
"The powerful Nordic nRF microcontroller family is now complemented by the best cross-platform IDE Embedded Studio which will help software engineers to be even more efficient in their daily development processes. It is another key milestone of our exciting long-lasting cooperation with Nordic, having originally started with the J-Link OB support for the Nordic evaluation boards." says Ivo Geilenbruegge, CEO at SEGGER.
More information on Embedded Studio is available at: https://www.segger.com/products/development-tools/embedded-studio
SEGGER Microcontroller  |  www.segger.com
Nordic Semiconductor ('Nordic')  |  www.nordicsemi.com