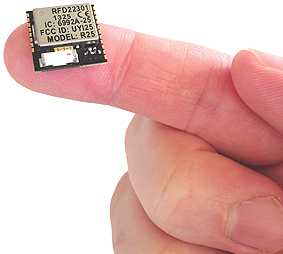 With the RFduino, the Arduino open-source platform is now able to offer a wireless alternative. The wireless-enabled microcontroller is scarcely the size of a fingertip and communicates with smartphones, tablets and laptops which have a Bluetooth SMART READY logo. Using RFduino, developers are able to build a system in just a few minutes which transfers data from sensors to a laptop or other Bluetooth-enabled devices. They can also use a smartphone to control the peripherals connected to the RFduino. Rutronik also offers identical modules and chips for mass production, depending on project requirements.
Author: Bernd Hantsche, Marketing Director Wireless at Rutronik
The technical name for the module in SMT design is RFD22301. What this abbreviation actually describes is a small, 15 × 15mm RISC computer module with integrated analogue/digital converters, a 2.4GHz antenna, seven GPIOs, SPI, I²C and a UART interface. With the Arduino IDE and the RFduino operating system extensions, the integrated radio transceiver becomes a dedicated Bluetooth 4.0 low-energy communications unit. An ARM Cortex M0 32-bit processor, 16kB RAM and 256 kB Flash take on the execution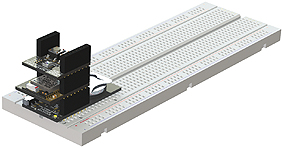 of wireless stack and application-specific programs. Thanks to metal plates and certifications for Europe, the USA and Canada, the module is also ideal for small and medium volume production.
As the name suggests, it is not only the Arduino IDE which runs on the RFduino. The sandwich principle of the expansion boards, better known as 'shields', was also adopted, albeit in a much smaller version. The RFduino in DIP design RFD22102 is particularly recommended for prototypes and mini-series. When this model is launched, there will already be a large number of different shields available: A USB shield facilitates programming and supplies the mini computer with energy. If the RFduino is already programmed or flashed, it can also be supplied via a CR2032 button cell shield, an AAA battery shield or a double AAA battery shield. Due to the highly innovative structure comprising an efficient MCU and the latest transceiver unit with technology from Nordic Semiconductor, the energy consumption of an RFduino is so low that, as a rule, the CR2032 cell lasts for several months or even years.
The energy consumption is higher if, on the fitted proto shield, other external consumers are connected to an RFduino. This increased energy consumption can be taken into account with the two AAA shields. The input and output options of the RFduino can be expanded with a servo shield, a dual-relay shield, a micro-SD shield and an RGB-LED button shield.
Consequently, the system offers a great deal of flexibility, enabling the components for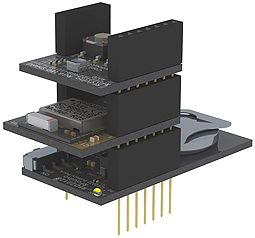 different projects to be individually assembled. Development kits available in Europe exclusively from Rutronik and its trading partners include a useful selection of accessory boards to help customers to get to know the RFduino. The simplest RFD90101 starter kit with an RFduino and a USB shield accessory board is available for around EUR 30. The most comprehensive kit is the 30-part RFD90105 master kit, with the gap between these two kits filled with other kits, all of which can be expanded with individual shields as required.
Endless options
The RFduino offers a wide range of application options at little cost. In just a few simple steps, a temperature sensor has been created which proved in tests to be capable of transmitting even through a closed refrigerator door. Thanks to the button cell and its tiny design, the RFduino takes up little space between the sausage and the cheese, yet is large enough not to be accidentally eaten!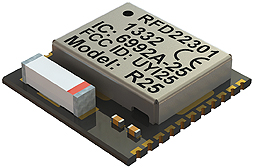 A sensor which monitors the humidity of the potting compost and reports to the smartphone, for example, is also quickly created. Many other suggestions for other gadgets which can be built fast are to be found at www.rutronik.com/RFduino
But that's not all. As the RFduino is essentially based on the nRF51822 System-on-Chip from Nordic Semiconductor, this opens up other opportunities: Instead of the Arduino IDE, the various wireless stacks from Nordic can also be flashed into the RFduino. Three different Bluetooth low-energy versions are available for selection: The Gazell open-source protocol with star topology, proximity pairing and many additional features, ShockBurst and special wireless desktop protocols.
This makes the RFduino an alternate low-cost development environment for Nordic chips.
With the RFD21815, an Arduino shield is also available for the original Arduino, with which the mini computer can establish a wireless connection. It is based on an RFD21733 module, which is in turn based on a Nordic nRF24LE1 chip and which contains the proprietary RFDP8 protocol from RF Digital.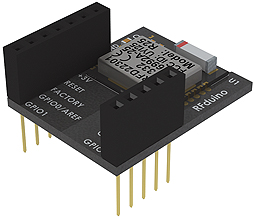 This means that an Arduino is compatible with the available hand-held remote controls, wireless modules and active antennae with the protocols specified. An overview of the RFDP8 products available can be found at www.rutronik.com/RFDP8
However, Bluetooth Low Energy, and hence also control via commercially available smartphones, is not possible without further action.
The experts at the Rutronik Wireless Competence Center offer support in assembling the modules and the planning of the prototype from medium series on a modular basis up to large series on a chip basis, protocol-specific advice and any questions relating to wireless technology.
www.rutronik.com