Maxim Integrated's Santa Cruz ambient light sensor integrates the IO-Link protocol to simplify high-accuracy industrial sensing.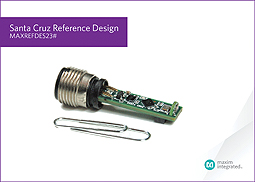 Using the Santa Cruz (MAXREFDES23#) ambient light sensor (ALS) from Maxim Integrated Products, Inc., factories can quickly configure and monitor multiple red, green, blue (RGB) and infrared (IR) ambient light sensors with the high accuracy required in industrial applications.
To stay competitive and maintain high quality, modern factories must be agile, maximizing "uptime" while reducing costs. The Santa Cruz ALS solution enables connected factories. This reference system provides a wide, dynamic range of clear, RGB, and IR light, and temperature data. Santa Cruz is tuned to the response of the human eye for accurate system function relative to visible light. In addition, it is unsurpassed for light sensitivity and low latency. The integrated IO-Link® software and device stack automatically configure the sensor without additional programming, saving valuable time and resources.
Additionally, Santa Cruz fits on a tiny 6.5 mm × 25 mm printed circuit board (PCB), making it the industry's smallest ALS system.
Key Advantages
• Small size: Industry's smallest ambient light sensing system.
• High integration: Integrates six highly accurate clear light, RGB and IR sensors; a temperature sensor; an economical and ultra-low-power microcontroller; dual integrated 3.3V and 5V linear regulators; programmable flash memory; and IO-Link software.
• High sensitivity: Sensitive over a range of 57,542 lux to 0.001 lux, at low power.
• Ease of configuration: IO-Link enabled, which allows simple identification and connection to existing industrial systems.
Maxim Integrated
www.maximintegrated.com