Renesas Electronics announced the availability of the RX71M Group as the new flagship product in the RX Family of 32-bit microcontrollers (MCUs). Developed for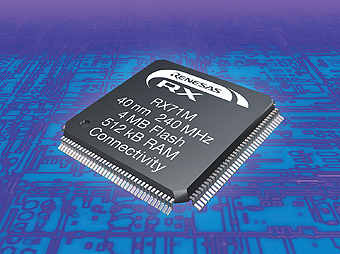 use in industrial equipment, the new series doubles the CPU operating frequency to 240 megahertz (MHz) from the 120 MHz of previous products and is available with up to 4 MB of on-chip flash memory.
Systems are more complex and larger in scale than previous versions while manufacturers are eager to adopt product development platforms to address increased development times and increased costs. On-chip flash memory MCUs are extensively used in midrange industrial equipment that are popularly priced in order to achieve a good balance between performance and system cost. M2M communication in industrial equipment has created demand for MCUs that are optimized for a range of performance levels, from sensor nodes operating at around 30 MHz to controllers operating at 200 MHz and above, and also for scalability in order to reduce the man-hours required for software and hardware development.
Recently, industrial customers are increasingly dispersing their system development efforts among multiple facilities and pursuing joint development arrangements with partners with strengths in specific technologies. This will result in reduced development costs of the new and advanced functions associated with transitioning to the IoT while increasing efficiencies and reducing development times. Such dispersed development and joint development approaches could bring risks to the customer's own core technologies (such as important algorithms) such as leaks or unauthorized duplication. It has therefore become necessary to pursue development in a way that ensures one's own software resources are protected.
Industrial equipment demands real-time performance since the sequence of processing steps, from data input to arithmetic processing to output of results must always finish within a set duration. When an MCU's CPU operating speed is faster than the speed at which the flash memory can be accessed, dedicated high-speed on-chip SRAM can be added so that algorithms that require real-time processing can be run from the high-speed SRAM, but using dedicated SRAM in addition to the on-chip flash memory increases the cost.
Renesas Electronics Europe
www.renesas.eu