Toshiba Electronics Europe has launched a new, 45W per channel power amplifier IC for automotive applications. The new 4-channel power amp IC, TCB001HQ, has been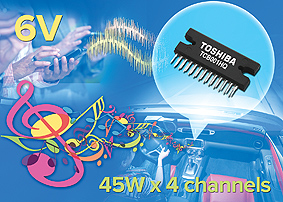 designed to offer enhanced noise tolerance and to limit the effect of interference generated by in-car mobile phone use.
Stopped vehicles fitted with engine idling reduction technology can suffer significant drops in battery output voltage, which can adversely affect the sound quality and clarity of in-car entertainment systems. By reducing the minimum operating voltage from 8V to 6V, the all new power amplifier offers more stable operation and prevents loss of sound and reduces noise disturbance. With mobile phone interference protection, the TCB001HQ provides a superior in-car listening experience.
The TCB001HQ also offers a newly developed filter circuit and reinforced protection circuits, including thermal overvoltage, output to VCC, output to GND and output to output protection, to ensure increased reliability. Built in mute and standby functions help to maintain battery charge.
Toshiba Electronics Europe
www.toshiba.semicon-storage.com