Toshiba Electronics Europe (TEE) has expanded its line-up of automotive N-channel power MOSFETs with the launch of two new devices: TK160F10N1, a 100V, 160A product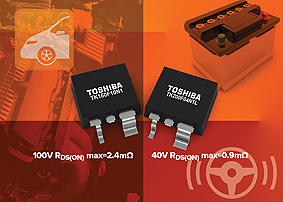 and TK200F04N1L, a 40V, 200A class product. Target applications include EPS, DC-DC converters and load switches. Each device features a chip using the U-MOSVIII-H process in a TO-220SM(W) package that has had its package resistance reduced to its limit with a new internal copper connector. In this way, the products have achieved industry leading low on-resistance characteristics measured @ VGS = 10V.
RDS(ON) = 0.78mΩ (typical) for the TK200F04N1L
RDS(ON) = 2.0mΩ (typical) for the TK160F10N1.
Both devices feature low thermal resistance of Rth(ch-c) = 0.4˚C/W (max) and 175˚C max channel temperature rating.
The new MOSFETs realize higher efficiency and lower heat generation. In addition, the U-MOSVIII-H has a better switching ripple suppression capability than the previous generation. It can contribute to EMI noise reduction in applications.
Toshiba Electronics Europe
www.toshiba.semicon-storage.com