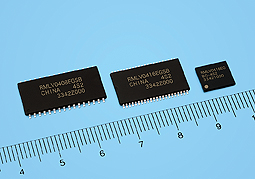 Renesas Electronics introduced 12 new product versions in the RMLV0416E, RMLV0414E, and RMLV0408E series of Advanced Low-Power SRAM (Advanced LP SRAM), the company's flagship SRAM (static random access memory) devices. The new memory devices have a density of 4 megabits (Mb) and utilize a fine fabrication process technology with a circuit linewidth of 110 nanometers (nm).
The forthcoming SRAMs are the new series of Advanced LPSRAM and provide high reliability equivalent to that of Renesas' existing SRAM products adopting a 150nm process, including soft error free and latch-up free.
They also achieve low-power operation with a standby current of maximum of 2 microamperes (µA) at 25°C, making them suitable for data storage in battery-backup devices.
Renesas' low-power SRAMs have achieved widespread adoption in many different fields, including industrial, office, communication, automotive, and consumer products and the company held the No. 1 market share worldwide in such products in 2012. Recently, as manufacturers systems have attained higher performance and more advanced functionality, SRAM has become an important factor in improving overall system reliability. In particular, SRAM used to store important information such as system programs and billing data must provide a high level of reliability, and particular attention has come to be focused on measures to reduce soft error caused by alpha radiation and cosmic neutron radiation. Renesas' Advanced LP SRAM has structure in which each memory node within the memory cells hast an added physical capacitor, resulting in extremely high endurance against soft error.
Renesas Electronics Europe
www.renesas.eu