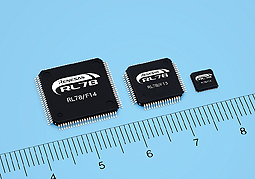 MSC now offers a total of 91 new products in the RL78/F13 Group and RL78/F14 Group of 16-bit microcontrollers (MCUs) from Renesas Electronics. The MCUs feature an extremely low standby mode current consumption of only 500 nA, improved safety functions, additional multiply-and-accumulate instructions, and a new extremely space-saving quad flat no-leads (QFN) package.
The RL78/F13 MCUs have internal flash memory sizes from 16 to 128 kilobytes and are available in different versions with packages from 20- to 80-pins. The RL78/F14 MCUs have internal flash memory with capacities from 48 to 256 kilobytes, packages from 30- to 100-pins, and RAM with capacities up to 20 kilobytes. Furthermore, the RL78/F13 and RL78/F14 MCUs adopt the respective high-functionality MCU peripheral functions of the existing Renesas' 78K0R and R8C CPU cores. The new MCUs all integrate the same CPU core, peripheral functions such as Controller Area Network (CAN) and Local Interconnect Network (LIN), and pin layout. This enables the construction of a flexible development platform with reusable design elements.
The RL78/F13 and RL78/F14 MCUs incorporate improved hardware features that support systems' functional safety. For example, a test function that verifies that the A/D converter is operating correctly by converting a reference voltage or the power supply voltage and comparing the result to a standard value, a function that prevents software runaway by detecting stack overflow with an interrupt, and a function that detects if an external clock oscillator has stopped by comparing it to an internal oscillator. Compared to Renesas' existing quad flat no-leads (QFN) packages, the new QFN package of the RL78/F13 and RL78/F14 MCUs has indentations on the pin side surface to improve solder wettability during mounting.
MSC Vertriebs
www.msc-ge.com