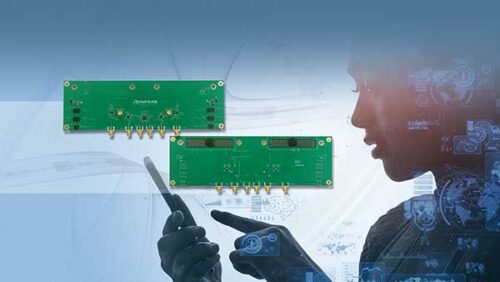 Renesas Electronics Corporation (TSE:6723), a premier supplier of advanced semiconductor solutions, today announced plans to showcase a full RF front end solution for 5G Active Antenna Systems (AAS) radios in collaboration with AMD. Paired with the field-proven AMD Zynq® UltraScale+™ RFSoC Digital Front End OpenRAN Radio (O-RU) Reference Design, the RF front end includes RF switches, low-noise amplifiers and pre-drivers. It offers a complete solution to meet the demand of the growing mobile network infrastructure market. The reference platform will be demonstrated at the Mobile World Congress in Barcelona, February 27 – March 2 at the AMD booth (#2M61 Hall 2).
The new 5G design platform integrates all the essential RF and digital front-end hardware for base stations operating in the Open Radio Access Network (O-RAN) ecosystem. This includes a high-isolation multi-throw DPD (Digital Pre-Distortion) switch, a high-gain and linearity pre-driver in a compact package, an integrated switch and Low Noise Amplifier (LNA) with input signal coupling functionality. This full RF front end platform is designed to efficiently process and transmit data to wireless networks with optimized power levels. Moreover, it has been integrated with the AMD RFSoC DFE ZCU670 Evaluation Kit for quick prototyping and rapid development of wireless network systems. The platform offers superior RF performance, while minimizing DPD resources for TX channel linearization, improving radio efficiency and ultimately reducing operating costs for wireless network providers.
The RF front-end solution is the latest 5G solution to be jointly developed by Renesas and AMD. Previously, the two companies collaborated on the high-performance RF timing solution for 5G Next-Gen Radio (5G NR), which incorporates Renesas' IEEE 1588-enabled System Synchronizer as part of the DFE ZCU670 Evaluation Kit.
"We are thrilled to be collaborating with AMD once again to demonstrate our latest RF capabilities at the upcoming Mobile World Congress," said Naveen Yanduru, Vice President of RF Engineering at Renesas' Infrastructure Business Division. "Using our turnkey hardware solution, developers of 5G RF wireless infrastructure systems can reduce development time and cost. We are confident that this solution will set a new standard in RF performance and efficiency for the wireless communication market."
"The RFMC expansion connectors on the ZCU670 evaluation board allow our customers to quickly prototype and evaluate a complete RF line up design for their Radio. To demonstrate, we have collaborated with Renesas again to develop an optimized RF Front End reference design targeting the N78 band," said Brendan Farley, Corporate Vice President of Wireless Engineering at AMD. "As the market for OpenRAN 5G Radio (O-RU) continues to grow, these reference designs will help accelerate our mutual customers time to market with proven solutions."
More information about Renesas' RF solutions can be found here: https://www.renesas.com/eu/en/products/rf-products
Renesas Electronics Corporation