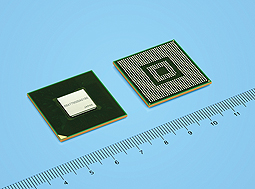 Renesas Electronics, a premier provider of advanced semiconductor solutions, and Renesas Mobile Corporation, a leading supplier of advanced cellular semiconductor solutions and platforms announced the availability of a new member of the R-Car Series of automotive Systems-on-Chip (SoCs). Capable of delivering more than 25,000 DMIPS, the R-Car H2 provides high performance and state-of-the-art 3D graphics capabilities for high-end multimedia and navigation automotive systems. The R-Car H2 is powered by the ARM® Cortex™A-15 quad-core configuration running an additional ARM® Cortex™A-7 quad-core – the industry's first implementation of a Quad ARM® Cortex A15 and the big.LITTLE processing technique in an automotive SoC.
Powerful media hardware accelerators enable features like 4 x HD 1080p video en/decoding including Blu-Ray support at 60 frames per second, image/voice recognition and high-resolution 3D graphics with almost no CPU load. These implemented hardware modules also execute the display content improvements needed for human-machine interface (HMI) / navigation data in parallel to Movie/DVD
handling.
The R-Car H2 also features the Imagination Technologies PowerVR Series6 G6400 Graphics Processing Unit (GPU). This is the first worldwide implementation of the GPU into an automotive SoC, which demonstrates the state-of-the-art 3D graphics capability of the R-Car series. The R-Car H2 offers one of the best graphic performance solutions in the automotive embedded market. This GPU is ready to not only support open technologies like OpenGL ES 2.0, but also the OpenGL ES 3.0 and OpenCL standards. Support of the Open graphics standards combined with the R-Car H2's cutting-edge IP and other features makes it the perfect platform to develop next-generation infotainment systems.
Renesas' IMP-X4 core, implemented in R-Car H2 as an optional feature, provides real-time image processing that enables developers to support the emerging trend of augmented reality.
Renesas Electronics Europe
www.renesas.eu