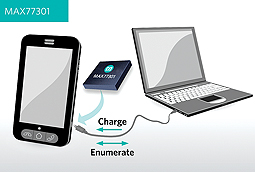 Maxim Integrated Products, Inc. announced that it is now sampling the MAX77301 Li+ battery charger. It integrates the intelligence to enumerate with the host device, automatically identify the adapter type, and then determine the fastest rate to charge a battery. With advanced temperature monitoring, the MAX77301 modulates the charge current and battery regulation voltage automatically to maximize safety in any temperature environment. It performs all of these functions without an external CPU or system hardware. The MAX77301 is ideal for mobile equipment, such as cameras, Bluetooth® headsets, MP3 players, and portable medical devices.
To enhance battery safety, battery makers often recommend charging "gently" in cold or hot ambient temperatures. This often necessitates use of a microcontroller to monitor and control the charger. The MAX77301 solves this charging problem by automatically setting charge parameters at a safe level. The device also provides full programmability via the I2C interface, increasing flexibility. Furthermore, it integrates an enumeration and adapter detection engine to maximize charge current. This safety feature and the adapter detection ensure the fastest and safest possible charging.
Key Advantages
• Maximizes charge current: automatically detects charge source and sets the highest allowable charge current.
• Optimizes user convenience: Smart Power Selector™ technology allows a portable device to operate with a discharged battery or no battery.
• Highly flexible: fully programmable I2C interface; charges from a USB port.
• Easy implementation: no extra software required for charger detection or USB enumeration.
Maxim Integrated
www.maximintegrated.com