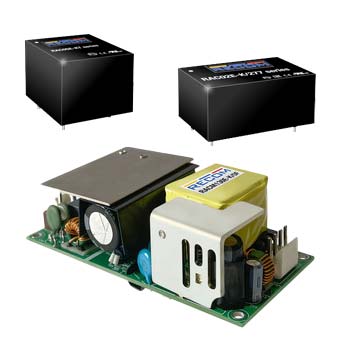 The AC/DC power supply provides the necessary DC voltage for many electronic devices. If these have a standby function, efficiency plays a decisive role to comply with the guidelines for energy consumption-relevant products. RECOM's E-Series AC/DC power supply modules easily meet these specifications. Thanks to their high efficiency over a wide load range and extremely low energy losses at low loads, the components easily comply with common energy-saving guidelines such as the European Ecodesign Directive Lot 6. In addition to energy efficiency, other key purchasing parameters include compact size, reliability, and pricing. The E-Series and other RECOM products are available at www.rutronik24.com.
AC/DC converters, similar to sensors, processors, and actuators, are among the most widely used components. To meet the high demand, RECOM is launching the E-series in a compact form and at low prices – ideal for mass production. Economies of scale allow RECOM to achieve cost savings of up to 50 % compared to similar products without compromising quality. The converters boast high efficiency over a wide load range, short-circuit, overload, and overvoltage protection, and UL/IEC/EN60950-1, 62368-1, 60335-1, and 60601- 1* certifications.
Application examples:
Energy-efficient products with Energy Star certification
Industrial control systems
Smart buildings and smart offices
Remote and automated systems
Test and measurement systems
Standby power supplies in commercial applications
Power supplies for panel mounting in enclosures
Specifications of the RECOM E-Series models in an overview:
RAC02E-K/277
RAC03E-K/277
RAC05E-KT
RAC20E-K/277
RACM130E-K
Input voltage:
85 – 305 VAC
Input voltage / OVC III: 85 – 305 VAC
Input voltage:
100 – 240 VAC
Input voltage:
85 – 305 VAC
Input voltage:
85 – 264 VAC
Full load output power: up to 80 °C Operating temperature: -40 °C to +90 °C
Full load output power: up to 75° C
Full load output power: -25 to 55°C
4 kVAC Isolation / 60 sec
130 W peak power
Low profile:
15.4 mm
Operating temperature from
-40 °C to 85 °C
Primary side regulated
EMC compliant without external components
OVC III rating
4 kVAC insulation strength
Low profile: 15.4 mm
Pin assignment of the EI-30 transformer
Power consumption without load
2MOPP medically certified, B and BF ready
Standby mode optimized for Eco Design
75 mW no-load power
Power consumption without load 100mW
200 mW up to 5000 m operating altitude (up to 2000 m OVCIII)
Up to 4000 m operating altitude
 EN55032 Class B
EN55032 Class B with floating output
Certified for household appliances and ITE
52.7 mm x 27.6 mm x 23.0 mm
Integrated class B EMC filter
33.7 mm x 22.2 mm x 15.4 mm
37.0 mm x 24.0 mm x 15.4 mm
32.1 mm x 27.1 mm x 21.8 mm
101.6 mm x 50.8 mm x 32.0 mm (OF)
118.3 mm x 62.7 mm x 38.7 mm (ENC)
For more information about the E-Series from RECOM and a direct ordering option, please visit our e-commerce platform at www.rutronik24.com.