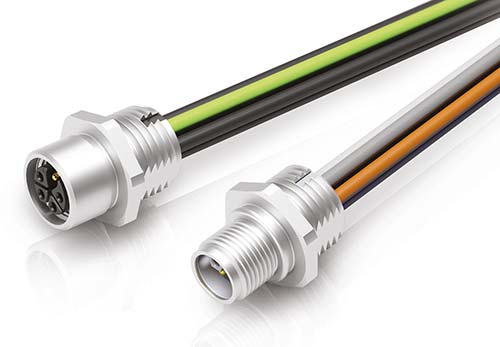 Power supply components intended for control cabinets on the North American continent must meet the specifications of the UL 2237 standard. Engineers at binder have designed panel mount parts with K and L coding as part of the M12 series 824 and 823, which comprehensively follow these requirements.
binder, a leading supplier of industrial circular connectors, offers K- and L-coded panel mount parts within its 824/823 product series, which are intended for power applications in the North American market in compliance with the UL 2237 standard. These include 5-pin male and female panel mount parts featuring screw locking that meet the protection degree criteria of IP68. Electrical and plant engineering as well as industrial controls are the main application areas for these M12 components.
UL 2237 – panel mount parts for North America
The use of electromechanical interfaces for voltage and power transmission in control cabinets of the North American applications market requires approvals according to UL 2237. This standard specifies testing guidelines for connectors, cables, cable glands, and fuse elements, such as the Grounding (Bonding) Path Current Test: this procedure stipulates the PE path (protection earth) to withstand a current of 190 A for the wire gauge AWG16 or 300 A in the case of AWG14 for four seconds without interrupting. AC applications also require an abnormal-overload test to be carried out at 1.5 times the rated current – where the PE path fuse must not blow – as well as an additional connection of the PE pin to the component housing.
Panel mount parts featuring K and L coding
According to the DIN EN 61076-2-111 standard, K coding indicates 5-pin M12 connectors for power supply to AC applications such as drives or frequency converters. The rated voltage and current limits are specified at 630 V(AC) and 12 A, respectively. The L coding also refers to a 5-pole mating face but is particularly designed for DC applications up to 63 V(DC) and 16 A. These include, for example, smaller motors or fieldbus devices in the industrial-automation sector.
824 and 823 panel mount parts at a glance
The 5-pin panel mount parts of the binder 824 and 823 series with K coding (pin count 4+PE) and with L coding (pin count 4+FE, functional earth) feature M12 screw locking. The termination types are single wires. Both the K- and L-coded components were designed for wire gauges AWG16 and AWG14. For the AC components with K coding, the requirements of UL 2237 were implemented via a PE connection to the threaded ring. UL 2237 approval is currently being prepared.
The mechanical lifespan of the panel mount parts is rated at >100 mating cycles. The temperature limits are -40/+85 °C (Series 824) and -40/+105 °C (Series 823).