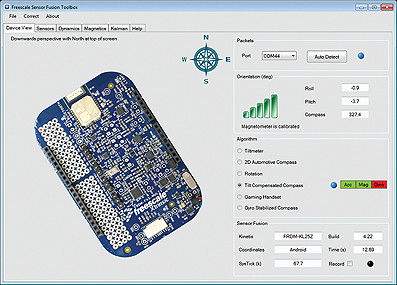 It's been quite a while since I've updated you on the status of Freescale's sensor fusion efforts (One-stop-fusion-shopping at freescale.com/sensorfusion). We haven't been idle. We've added support for FRDM-KL46Z boards and for Kinetis Design Studio IDE. The Sensor Fusion Toolkit for Windows has been expanded with new and improved features. We've updated our user manual and vastly upgraded the content in the sensor fusion data sheet. We've added a community support page at community.freescale.com/community/sensors/sensorfusion. But the really big news is that we've taken the entire sensor fusion library open source. It's FREE. We got a lot of requests for less restrictive licensing terms and easier license checking in the code. We fixed both by eliminating all license checks, supplying the entire library in source form (no more node locked binaries) and switching to a very flexible BSD license file. Source files must retain the Freescale copyright, but you are free to use the code with any set of sensors or MCUs, at no cost what-so-ever.
This is Freescale's way of encouraging broad adoption of sensor fusion-based techniques, regardless of who your supplier is. Which leads me to…
This week, at the MEMS User Group Executive Congress in Scottsdale AZ, executive director Karen Lightman, announced the MIG Accelerated Innovation Community (AIC). The AIC is intended to facilitate sharing and adoption of algorithms for sensor fusion and analytics, shortening time to adoption, and (by enabling re-use) allowing its users to focus on development of next generation functions. Freescale seeded the effort by contributing our sensor fusion library, documentation and source files for Windows and Android-based visualization tools. We'll be expanding these offerings in coming months.
Steve Whalley, MIG chief strategy officer, added that "Analog Devices and NIST have already come on board, and PNI Sensor Corp. will contribute three algorithms: quaternion to heading pitch and roll; heart rate monitoring using PPG sensor; and step counting. We also fully expect other MIG member companies to add further algorithms to AIC over the next 30 to 60 days, providing a rich baseline algorithm capability to assist developers with sensor fusion solutions."
There have been a few sensor algorithm libraries on the web. But they were generally limited in ability or via license restrictions. Corporate acquisitions of Sensor Platforms, Movea and others earlier this year have taken a number of commercial offerings out of the general market. The AIC makes professional level solutions available for everyone else. Visit the MIG Open Source Sensor Fusion site to register and gain access to GitHub based code, documentation and tools. In the spirit of full disclosure, my team and I authored much of the material currently on the site, so if you have suggestions, please feel free to send them my way.
AIC also opens the door for companies to provide professional support options, which Freescale plans start offering this month. The company will be making a bundled sensor fusion development kit (FRDM-SFUSION) available for purchase this month. The kit is offered at a suggested resale price of $170 USD and includes Freescale's FRDM-K64F, FRDM-FXS_MULTI-B boards pre-programmed with sensor fusion software compatible with our standard Sensor Fusion Toolbox for Windows.
Also available is a premium software development support package that includes a private portal with up to 50 hours support at a price of $10,000 USD. For more information, please visit www.freescale.com/FRDM-SFUSION.
I'm really excited about taking our fusion library open source. I'm already seeing faster adoption, and I'm looking forward to other contributors reviewing and adding to our work products, and adding their own. It's a fun time to be in the sensor's business ■
Author: Michael Stanley
Michael Stanley manages the systems/algorithms team within Freescale's Sensors Solutions Division.
www.freescale.com