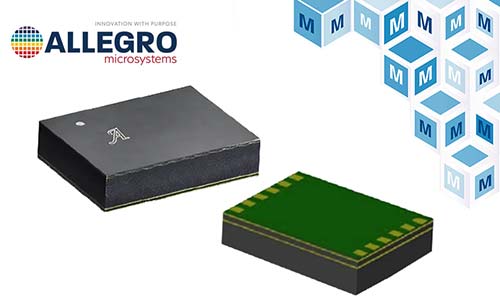 Mouser Electronics, Inc., the industry's leading New Product Introduction (NPI) distributor with the widest selection of semiconductors and electronic components™, is now stocking the Power-Thru AHV85110 isolated GaN FET gate driver from Allegro MicroSystems. The AHV85110 is an AEC-Q100 Grade 2 qualified isolated gate driver designed to drive GaN FETs in multiple applications and technologies. The gate driver boasts fast propagation delay and high peak source/sink capability, efficiently driving GaN FETs in high-frequency designs. The AHV85110 gate driver supports a range of automotive, industrial, and clean energy applications, as well as AC-DC and DC-DC converters.
The Allegro MicroSystems AHV85110 GaN FET gate driver, now available at Mouser, combines traditionally separate components—the isolated gate driver and the isolated power supply—into a single, compact, robust package. Allegro's platform minimizes EMI pathways and simplifies integration, resulting in faster time-to-market, efficiency gains, and production cost savings. This design also allows the driving of a floating switch in any location in a switching power topology. The gate driver is housed in a compact, low-profile, surface mount 10 mm × 7.66 mm × 2.41 mm NH package, making it an ideal choice for space-constrained applications, such as EV chargers and micro-inverters. The AHV8110 GaN FET gate driver can also be used in a range of transportation, robotics, clean energy, and industrial applications.
The AHV85110 isolated GaN FET gate driver is supported by the APEK85110KNH-01-T-MH evaluation board. The APEK85110KNH-01-T-MH evaluation board includes two AHV85110 GaN FET drivers and two GaN FETs in a half-bridge configuration. The evaluation board features convenient test points for monitoring the high- and low-side gate drives as well as the switch node.
To learn more about the AHV85110 isolated GaN FET gate drivers, visit https://www.mouser.com/new/allegro/allegro-ahv85110-isolated-gate-drivers/.