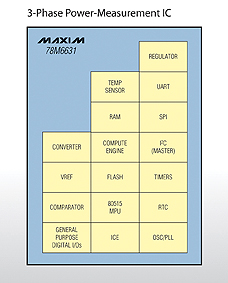 Maxim Integrated Products introduces the 78M6631, a Teridian™ 3-phase power measurement system-on-chip (SoC) that embeds power monitoring into high-load applications. This fully self-contained and customizable energy measurement system offers a full range of measurement and diagnostics, and results in ease of design and reduced costs. The 78M6631 is suited for a wide variety of applications requiring 3-phase power and quality measurements, including industrial panels and motors, solar panel inverters, storage power supplies, and data centers.
"In end markets that require 3-phase energy monitoring, there is great demand for accurate energy measurement," said Jay Cormier, Maxim Integrated Products Director, Energy Measurement & Communications. "Having the ability to monitor energy usage in applications that require 3-phase power can have a substantial impact on the energy consumption and efficiency in data centers, factories, and buildings. To reduce downtime, the 78M6631 enables measurement, diagnostics, and optimization of point-of-load problems before a potential equipment failure."
The self-contained energy measurement system features an embedded metrology engine and includes a full range of embedded energy diagnostics, including power factor, harmonic distortion, voltage sag, and dip. The 78M6631 also provides better than 0.5% system accuracy across a wide 2000:1 dynamic range. This enables the use of the lowest value shunt for the current sensor, thus reducing heat and parasitic power loss. The device's integrated flash provides application flexibility, on-chip calibration, and field upgrade capability. Furthermore, the 78M6631 is available with preloaded firmware that supports both Delta and Wye 3-phase applications, which reduces both development costs and time to market.
"Leveraging more than 20 years of building metrology solutions, we can now address the specific measurement needs of 3-phase point-of-load applications," added Cormier. "The simplified design and flexible capabilities of the 78M6631 will provide manufacturers with application-specific adaptability and an unprecedented time to market."
The 78M6631 power measurement and monitoring SoC is available in a small, lead-free 56-pin QFN package, for designs where power density and space are at a premium. Production units of the 78M6631 are available now and are priced at $5.78 (1000-up, FOB, USA). Demo kits are also available. For more information on this device and other products in Maxim's portfolio of Teridian SoCs, please visit http://www.maxim-ic.com/products/energy/embedded-soc.cfm.
Maxim will be showcasing the 78M6631 and other power measurement products at the Applied Power Electronics Conference and Exposition (APEC) in Orlando, Florida. The exposition takes place February 6–8, 2012 at Disney's Coronado Springs Resort. Maxim will be located in booth #1003.
Maxim Integrated Products
www.maxim-ic.com