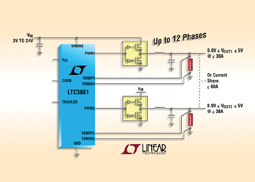 Linear Technology Corporation introduces the LTC3861, a dual output synchronous step-down DC/DC controller with multiphase operation, differential output voltage sensing and high frequency operation. This controller works in conjunction with external power train devices such as power blocks and DrMOS, as well as discrete N-channel MOSFETs and associated gate drivers, enabling flexible design configurations. Up to 12 phases can be paralleled and clocked out-of-phase to minimize input and output filtering for very high current requirements (up to 300A). Applications include high current power distribution and industrial systems, DSP and ASIC supplies.
The LTC3861's current sharing loop enables accurate current sharing between phases across multiple ICs, both DC and during a load transient. The device's voltage mode control architecture allows for selectable fixed operating frequency from 250kHz to 2.25MHz or it can be synchronized over the same range with its phased-lock loop (PLL). The differential amplifier provides true remote output voltage sensing of both VOUT and ground terminals, enabling high accuracy regulation. The LTC3861 operates with a VCC voltage ranging from 3V to 5.5V, a VIN voltage (drain voltage for the high-side MOSFET) from 3V to 24V and it produces output voltages from 0.6V to 5V. The output current is sensed by monitoring the voltage drop across the output inductor (DCR) for maximum efficiency or using a sense resistor. Its adjustable current limit can be configured for very low sense voltages (up to 50mV) to minimize power loss.
Additional features include adjustable soft start or tracking, output overvoltage protection and two power good output signals. Furthermore, it maintains ±1% reference voltage accuracy over an operating temperature range of
-40°C to 125°C.
The LTC3861 is housed in a 36-lead 5mm x 6mm QFN package and is available from stock. The 1000-piece price starts at $2.88. For more information, visit www.linear.com/product/LTC3861.
Linear Technology Corporation
www.linear.com