Microchip announces the second member of its award-winning and patented GestIC® family. The new MGC3030 3D gesture controller features simplified user-interface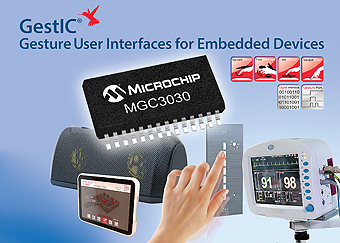 options focused on gesture detection, enabling true one-step design-in of 3D gesture recognition in consumer and embedded devices. Housed in an easy-to-manufacture SSOP28 package, the MGC3030 expands the use of highly sought after 3D gesture control features to high-volume cost-sensitive applications such as toys, audio and lighting.
Watch a short video on GestIC technology: www.microchip.com/Video-012015a
The simplicity of gesture-detection integration offered by the MGC3030 is also achieved through Microchip's free, downloadable AUREA Graphical User Interface (GUI) and easily configurable general-purpose IO ports that even allow for host MCU/processor-free usage. The MGC3030's on-chip 32-bit digital signal processor executes real-time gesture processing, eliminating the need for external cameras or controllers for host processing, and allowing for faster and more natural user interaction with devices.
Further simplifying the design process and accelerating time to market, the MGC3030 makes full use of the GestIC family development tools. For example, Microchip's Colibri Gesture Suite, an on-chip software library of sophisticated yet easy-to-use gesture features. Intuitive and natural movements of the human hand are recognised, making the operation of a device functional, intuitive and fun. Without the need to touch the device, features such as Flick Gestures, the Air Wheel or proximity detection perform commands such as changing audio tracks, adjusting volume control or backlighting, as well as many other commands. All gestures are processed on-chip, allowing manufacturers to realise powerful user interfaces with very low development effort.
Unique to GestIC technology, the programmable Auto Wake-Up On Approach feature begins operating in the range of 100 microwatts power consumption, enabling always-on gesture sensing in power-constrained applications. If user interaction is detected, the system automatically switches into full sensing mode and alternates back to auto wake-up mode once the user leaves the sensing area.
To enable development with the MGC3030, Microchip's Woodstar MGC3030 Development Kit (DM160226) was also announced today, priced at $139. The kit includes the AUREA Graphical User Interface, the central tool to configure the MGC3030, and the Colibri Suite to meet the needs of any design. AUREA is available via a free download and the Colibri Gesture Suite is an extensive library of proven and natural 3D gestures for hands and fingers that is pre-programmed into the MGC3030.
The MGC3030 featuring GestIC technology is available today in a 28-pin SSOP package.
Microchip Technology
www.microchip.com/GestIC-Page-012015a