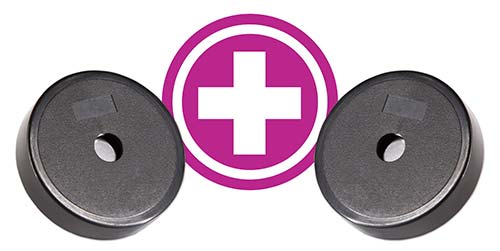 CUI Devices' Audio Group today announced a new line of medical buzzers compliant with the alarm signal requirements of IEC 60601-1-8. The CPIM family is a range of piezo audio indicator buzzers capable of producing low, medium, and high priority tones for general medical use as well as tones for specific medical applications, including ventilator, oxygen, and cardiovascular equipment.
Carrying built-in driving circuits, these medical buzzers feature rated voltages of 5 Vdc, sound pressure levels of 90 dB at 10 cm, rated frequencies of 4,000 Hz, and operating temperature ranges from -30 to 85°C. The models are housed in through hole packages with 44 mm diameters and 10.25 mm profiles.
The CPIM medical buzzers are available immediately with prices starting at $11.73 per unit at 250 pieces through distribution. Please contact CUI Devices for OEM pricing.
For helpful resources and tools on audio components, check out CUI Devices' Resource Library that houses a range of blog posts, videos, and more.
Summary
Product name: CPIM Medical Buzzers
Availability: Stock to 10 weeks
Possible users: Ventilator, oxygen, cardiovascular, and general medical use
Primary features: IEC 60601-1-8 compliant, built-in driving circuits
Cost: $11.73 per unit at 250 pieces through distribution
View details for CUI Devices' CPIM medical buzzers