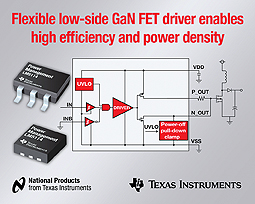 Texas Instruments Incorporated introduced a low-side gate driver for use with MOSFETs and Gallium-Nitride (GaN) power field-effect transistors (FETs) in high-density power converters. The new LM5114 drives GaN FETs and MOSFETs in low-side applications, such as synchronous rectifiers and power factor converters. Together with the LM5113, the industry's first 100-V half-bridge GaN FET driver announced in 2011, the family provides a complete isolated DC/DC conversion driver solution for high-power GaN FETs and MOSFETs used in high-performance telecom, networking and data center applications. For more information, samples and an evaluation board, visit www.ti.com/gan-pr.
The LM5114 drives both standard MOSFETs and GaN FETs by using independent sink and source outputs from a 5-V supply voltage. It features a high 7.6-A peak turn-off current capability needed in high-power applications where larger or paralleled FETs are used. The increased pull-down strength also enables it to drive GaN FETs properly. The independent source and sink outputs eliminate the need for a diode in the driver path and allows tight control of the rise and fall times.
TI is showcasing its FET driver family — the LM5114, the LM5113 in a new micro SMD package, the pin compatible 4-A/8-A UCC27511 low-side gate driver scheduled for release in March, and other products that help unlock the full benefits of GaN FET technology — in booth #401 at the Applied Power Electronics Conference and Expo (APEC) in Orlando, Florida, Feb. 6-8. APEC is one of the industry's leading conferences for practicing power electronics professionals.
Key features and benefits of the LM5114 low-side gate driver
• Independent source and sink outputs for optimized rise and fall times enable higher efficiency.
• +4-V to +12.6-V single power supply support a wide range of applications.
• 0.23-Ohm open-drain, pull-down, sink output prevents unintended turn-on.
• 7.6-A/1.3-A peak sink/source driver current maximizes change-in-voltage over change-in-time (DV/DT) immunity.
• Matching delay time between inverting and non-inverting inputs reduces dead time losses.
• 12-ns typical propagation delay enables high switching frequency while maintaining improved efficiency.
• Up to 14-V logic inputs, regardless of VCC.
• -40 degrees C to +125 degrees C operating temperature range.
Availability, packaging and pricing
The LM5114 is available in volume now from TI and its authorized distributors. Offered in a 6-pin SOT-23 package and 6-pin LLP package with exposed pad, the suggested retail price is $0.58 in 1,000-unit quantities.
Find out more about TI's power management portfolio:
• Order samples and an evaluation module of the new GaN FET driver: www.ti.com/lm5114-pr
• Get information on all of TI's GaN FET driver solutions: www.ti.com/gan-pr
• Watch a lab demonstration of the LM5113: www.ti.com/lm5113-prv.
• Ask questions and share knowledge in the Power forum in the TI E2E™ Community: www.ti.com/powerforum-pr
Texas Instruments
www.ti.com