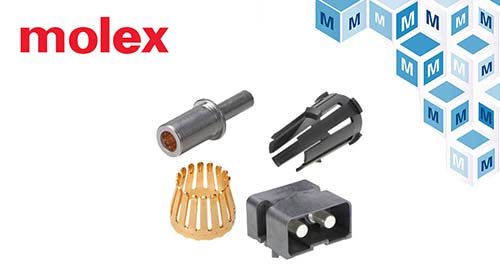 Mouser Electronics, Inc., the authorized global distributor with the newest semiconductors and electronic components, is now shipping the PowerWize BMI high-current panel-to-board/busbar interconnects from Molex. Dense electronic packaging often requires designs where subassemblies are mated without visual guidance. These interconnects provide engineers with high-current carrying capacity and accurate mating in hard-to-reach and visually obscured applications like data center power transmission systems, base stations, battery management inverters and electric vehicle charging stations.
The Molex PowerWize BMI high-current blind-mating panel-to-board/ panel-to-busbar connectors, available from Mouser Electronics, incorporate Molex's COEUR socket technology, where panel-mounted receptacle housing's guideposts align with the inner surfaces of the header sidewalls, before contacts and pins engage, to facilitate trouble-free blind mating. These conical sockets also offer low contact resistance and low voltage drop, creating minimal heat generation at the contact interface, resulting in higher current-carrying capacity compared to other contact designs. Additionally, PowerWize headers and receptacles are designed to meet industry-standard, safe-to-touch requirements.
The PowerWize BMI High-Current Panel-to-Board/Busbar Interconnects offer screw-mount pins attached to printed circuit boards or busbars with solder tail pins to enhance manufacturing flexibility in three different sizes: 3.40 mm (75.0 A), 6.00 mm (110.0 A) and 8.00 mm (175.0 A). Cable assemblies feature ±2.00 mm of radial self-alignment to mitigate stack-up tolerance issues. At the same time, the reflow-capable/wave solder-capable solder tail headers are suitable for either pin-in-paste reflow PCB processing or wave solder PCB processing. PowerWize BMI crimp machined contacts offer a wide range and will accept 1/0, 2, 4, 6, 8, or 10 AWG wires.
To learn more about the PowerWize BMI high-current panel-to-board/busbar interconnects, visit:  https://www.mouser.com/new/molex/molex-powerwize-bmi-connectors/.