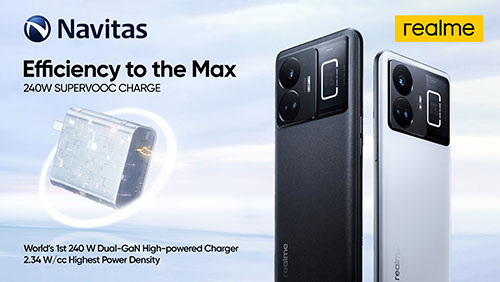 Navitas Semiconductor (Nasdaq: NVTS), the only pure-play, next-generation power semiconductor company, has announced that its next-generation GaNFast™ technology has been adopted for the 'in-box' 240 W ultra-fast charger provided with the recently-announced realme GT3 smartphone.
Launched at this year's Mobile World Conference (MWC), realme's GT3 is a powerful and stylish new Android device and the world's first smartphone to offer the power of 240 W charging. The phone sports a Snapdragon 8+ Gen 1 chipset, features a 6.74 inch 10-bit AMOLED screen with a 144 Hz refresh rate and includes a customizable rear RGB LED rectangle that supports 25 colors.
The dual-port SUPERVOOC fast charger included with the GT3 is fully certified by TÜV Rheinland and built around two Navitas NV6138 GaN power ICs in CRM PFC and HFQR flyback topologies. With a form factor of only 57 x 58 x 30 mm (99 cc) and weighing just 173 g, the charger has a power density of 2.42 W/cc and can fully charge the GT3's 4600 mAh battery in a lightning-fast nine minutes and 30 seconds. A charge of 50% is possible in as little as four minutes, while a quick-shot 30-second charge delivers two hours talk-time.
GaNFast power ICs integrate a high-performance GaN FET with GaN gate-drive to achieve unprecedented high-frequency, high-efficiency operation. Additional GaNSense™ technology enables real-time, accurate sensing of voltage, current and temperature with autonomous control. Loss-less current sensing eliminates external current-sensing resistors and hot-spots, while increasing system efficiency.
Chase Xu, Vice President of realme, President of realme Global Marketing commented: "With the GT3 we have eliminated battery anxiety by providing the world's most powerful smartphone-charging solution that delivers the maximum power that USB Type-C will support. Navitas GaNFast ICs featuring GaNSense technology are the key to realizing this world's first."
"We would like to congratulate realme on the global launch of the GT3,"said David Carroll, SVP of Global Sales at Navitas. "This ultra-fast-charging milestone, supports our mission to Electrify Our World™ by helping our clients set fast-charging records and deliver an ultra-portable user experience."
About realme
realme is a global emerging consumer technology company disrupting the smartphone and AIoT market by making cutting-edge technologies more accessible. It provides a range of smartphones and lifestyle technology devices with premium specs, quality, and trend-setting designs to young consumers at affordable prices. Established by Sky Li in 2018 and driven by its "Dare to Leap" spirit, realme has become one of the top 5 smartphone players in 30 markets globally in just three years, and realme has entered 61 markets worldwide, including China and Southeast Asia, South Asia, Europe, Australia, the Middle East, Latin America, and Africa, and has a global user base of over 140 million. For more information, please visit www.realme.com