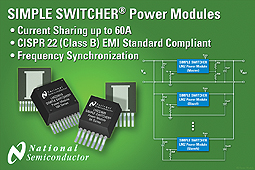 National Semiconductor Corp. introduced 12 new SIMPLE SWITCHER® power modules, the first to drive up to 10A of output current and comply with the CISPR 22 (Class B) radiated and conducted electromagnetic interference (EMI) standard in industrial and communications infrastructure applications. Watch a video on the products at bit.ly/LMZ10A. National's modules include new features for current sharing and frequency synchronization. For high-current intermediate rail and FPGA applications, multiple SIMPLE SWITCHER modules can be placed in parallel to achieve output currents from up to 60A. A synchronization pin enables the modules to operate at the same frequency, controlling switching noise in sensitive systems.
The new SIMPLE SWITCHER power modules are pin-to-pin compatible with other family members. With an integrated shielded inductor, National's 10A power modules operate up to an ambient temperature of 70 degrees C with zero air flow. Compliance with the CISPR 22 (Class B) radiated and conducted emissions standard ensures easy PCB design.
National's 12, easy-to-use power modules provide the efficiency of a synchronous switching regulator with the simplicity of a linear regulator, eliminating the external inductor and complex layout placement challenges typical of switching regulator designs. Each features precision enable and soft-start pins.
National Semiconductor
www.national.com