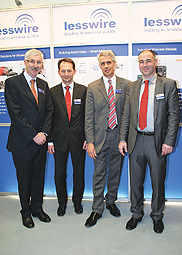 lesswire AG, located in Berlin, and MSC Vertriebs GmbH, headquartered in Stutensee, signed a Pan-European distribution agreement at embedded world 2011 in Nuremberg.
lesswire AG was founded in 1999 as a spin off from the Institute for High Performance Microelectronics in Frankfurt (Oder), Germany and specializes on the development of components and solutions for the wireless transmission of data and the use of information available on mobile devices. Regarding HF-parameters and radio transmission range, the company holds a leading technological position in the segments of wireless data transmission.
"With the industrial long range module BlueBear, which is available as SSP or HCI variant, the WLAN front end modules WiBear and WiBear-SF and further high-performance radio frequency products, lesswire meanwhile has a broad and future-oriented product portfolio for a wide range of various technical requirements. The extended operating temperature, the AECQ100-qualification of the chips used and, above all, the guaranteed long-term product availability predestine lesswire's Bluetooth products for use in demanding industrial, building automation and automotive applications. Therefore, lesswire's products are an ideal complement to our current RF-product portfolio," emphasizes Walter Puhl, head of MSC's RF-department.
MSC Vertriebs GmbH
www.msc-ge.com