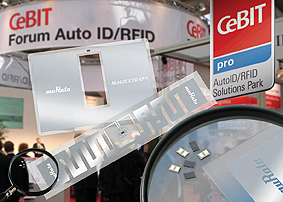 Murata will be exhibiting its innovative RFID solutions, featuring a live demonstration of the company's MAGICSTRAP® UHF tag-IC module, at CeBIT 2011 in Hannover, Germany, 1-5 March 2011. The demonstration will show how RFID can be easily integrated into any electronics product by using MAGICSTRAP®. The exhibit will also highlight how cost can be saved and value can be created by the implementation of RFID inside components on a PCB; the core of any electronics product. Murata Business Development Manager Alexander Schmoldt will give a presentation on this topic on Wednesday, March 2nd from 16:30 – 17:00 at the Forum of the AutoID(RFID Solutions Park.
Murata will showcase the capabilities of its MAGICSTRAP® RFID tag for PCB traceability in a real SMD electronics production environment. Together with Murata's partners, the antenna company Kathrein, and the RFID solution provider RFIT Solutions, the MAGICSTRAP® will be shown as part of a complete system solution.
Once the MAGICSTRAP® RFID module is applied to a PCB it can be used not only for simple process control or traceability – as the UHF RFID will give enough read range, it can also serve as a means for anti-counterfeiting and supply chain management or maintenance history can be stored offline at the product and altered each time the product was maintained.
Murata
www.murata.eu