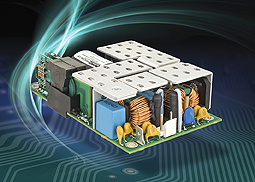 Murata's MVAC AC-DC power supplies are now available from TTI, Inc., the world's leading specialist distributor of passive, connector, electromechanical and discrete components. Up to 94% efficient, the series comprises two single output models, the 250W MVAC250 and the 400W MVAC 400 in an open frame 1U format. Both models feature a 12VDC fan supply and an auxiliary 5VDC 2A output.
These low profile power converters offer better convection-cooling performance than similar designs on the market and enable OEMs to eliminate the fan and fan controllers required in traditional power designs, saving cost and reducing power packaging space requirements. The MVAC250 can deliver up to 170W output and the MVAC400 up to 250W without requiring any forced air flow. Eliminating the need for cooling fans also reduces system noise and increases MTBF.
Both models take universal AC input voltage from 90 to 264VAC with active power factor correction (PFC) and inrush control. Nominal output voltage is 12, 24 or 50VDC. Further features include remote on/off, remote sensing and current sharing option. They are suitable for use in a broad range of different temperature environments, operating on full power from -10degC to +50degC, with a start up temperature as low as -20degC and derated operation up to +70degC.
The MVAC250 and the MVAC400 comply with UL60601-1 3rd edition medical safety standard making them suitable for use in medical applications. The units also meet the IEC60950/UL60950 safety specifications and EN55022 standard for conducted emissions.
Murata
www.murata.eu