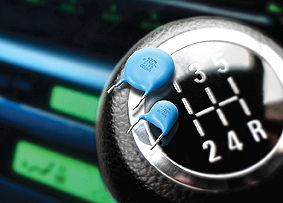 Hoofddorp, Netherlands
Murata announced the launch of the DE6 series "Type KJ" ceramic capacitors specifically designed for automotive applications and certified to meet the demanding safety standards required in such operating environments. Believed to be the first manufacturer in the industry to have successfully commercialized ceramic capacitors destined for automotive applications and certified under the safety standards, the capacitors are coated with a new insulating resin material. The resin improves the temperature resistance cycle performance and allows the capacitors to be guaranteed to endure 1,000 -55°C/+125°C temperature cycles.
These highly reliable capacitors have a 300 VAC voltage rating and the flame-retardant epoxy resin used is compliant with the UL94V-0 flammability standard. The X1/Y2 class products comply with UL and ENEC (VDE) safety standards.
While meeting the criteria for safety and vehicle-mounted applications, the new ceramic capacitors are ideally suited for use in the AC line filters of the vehicle-mounted chargers found in plug-in hybrid electric vehicles (PHEV) and electric vehicles (EV).
Since PHEVs and EVs are recharged directly from external power supplies, it is possible that the capacitors that are connected directly to the primary circuits of the vehicle-mounted chargers will be subjected to high-voltage surges from the external power supplies. This is the reason why capacitors that are certified as conforming to the safety standards, and that are capable of withstanding these surges are required.
Murata
www.murata.eu