MSC Technologies expands its product portfolio with the COM Express™ Type 10 form factor. The new MSC C10M-BT COM Express™ Mini module Type 10 with a size of 55 × 84 mm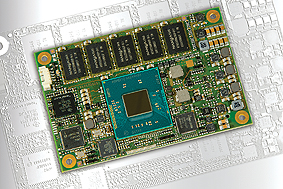 is best suited for ruggedized applications. All components including up to 8GB DDR3 DRAM memory are soldered onto the printed circuit board. To increase robustness, the module offers an optional memory error correction (ECC) that delivers a high level of data integrity, reliability and system uptime. The COM Express™ board is specified for use in extended operating temperature ranges of -40 to +85°C. The module's high reliability is augmented by its processor's virtualization technology and a built-in security engine.
The new Type 10 pin-out is a refresh of the COM Express™ Type 1 specification. All Type 10 standard modules use a single 220 pin A-B connector and offer modern display interfaces.
The MSC C10M-BT COM Express™ module family is available in seven processor variants. The most powerful Intel® Atom™ based module integrates the E3845 processor (1.91GHz, 10W TDP) with four cores. There are various compatible modules with dual-core E3827 (1.75GHz, 8W TDP), E3826 (1.46GHz, 6W TDP) and E3825 (1.33GHz, 6W TDP) processors. The single-core E3815 (1.46GHz, 5W TDP) is available for less demanding applications. The computer-on-modules with quad-core N2920 (1.86/2.00GHz, 7.5W TDP) and J1900 (2.00/2.42GHz, 10W TDP) Intel® Celeron™ processors have an available turbo boost mode and offer additional computing performance. The on-chip Intel® Gen 7 HD Graphics produce significantly improved 2D and 3D graphics and support DirectX® 1.1, OpenGL 3.2, OpenCL™ 1.1 and a flexible HD video decoding hardware.
Optionally, the MSC C10M-BT module is equipped with up to 16GB eMMC Flash memory for booting or data storage.
The compact COM Express™ module family offers a broad range of modern interfaces like 1x USB 3.0, up to 7x USB 2.0, 3x PCIe x1 Gen. 2.0, Gbit Ethernet, HD audio, LPC and two SATA 3Gb/s channels. For the connection of two independent displays, there is a Digital Display Interface (DP 1.1a, DVI/ HDMI 1.4a) with up to 2560 x 1600 pixels and a LCD interface compliant with the LVDS standard, which alternatively can be configured as embedded DisplayPort (eDP) 1.3.
MSC Technologies offers sophisticated heatspreader and heatsink cooling solutions for its MSC C10M-BT Mini module family. For design support, MSC offers board support packages for Microsoft Windows® and Linux variants.
Please visit MSC Technologies at electronica in hall A6, stand 510.
MSC Technologies
www.msc-technologies.eu