MSC Technologies, offers a Linux Development Kit (LDK) with board support package (BSP) for its Qseven™ and COM Express™ modules with Intel® Atom™ processor E3800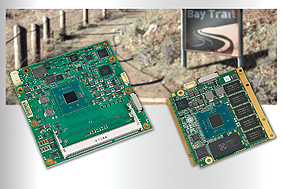 (codename Bay Trail) platform, and for the Qseven™ and nanoRISC® modules with Freescale's i.MX6 processor. Using this LDK, Linux developments for these processors can be shortened greatly, and its scalability feature allows generating embedded systems with minimum memory footprint.
The LDK from MSC Technologies is available for Qseven™ platforms MSC Q7-BT with Intel® Atom™ processor E3800 and MSC Q7-IMX6 with Freescale i.MX6 processor. In the near future, LDKs will be available for the COM Express™ module families MSC C6C-BT (Type 6) and MSC CXC-BT (Type 2), which are also based on Intel® Atom™ processor E3800 technology, and nanoRISC® modules with i.MX6.
The MSC-LDK is created with the Yocto Project Framework and enables configuration and building of embedded Linux systems. This results in a Linux system, which optimally supports MSC hardware families across multiple platforms. By solid support of the processor manufacturers through hardware and software-specific Yocto layers, the integration of drivers in the system is supported and simplified. Yocto provides recipes for the structured development of a customer-specific, and optimized to the application, Linux system.
The Yocto Project was founded in 2010 as collaboration among many hardware manufacturers, open-source operating systems vendors, and electronics companies. Its goal is to provide drivers and applications templates, tools and methods to help develop Linux-based embedded systems for embedded products that are optimized for the particular application, regardless of the hardware architecture.
MSC Technologies offers Qseven™, COM Express™, and nanoRISC® computer-on-modules in different performance and pricing classes. The applications include industrial automation systems, medical and measurement devices, image processing systems, digital signage, and gaming products.
Please visit MSC Technologies at electronica in hall A6, stand A6.510.
MSC Technologies
www.msc-technologies.eu