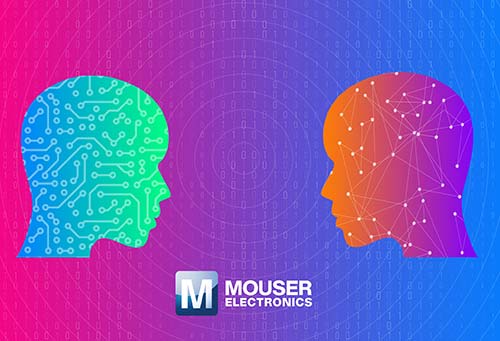 Mouser Electronics, Inc., the New Product Introduction (NPI) leader™ empowering innovation, is helping engineers refine and further their knowledge and skills through an insightful resource center focused on Artificial Intelligence (AI). The extensive hub contains valuable resources to help engineers and designers gain a deeper understanding of AI and its various applications and features informative articles on topics, such as deploying Edge-based AI using Kria SoMs, An Edge impulse use-case for healthcare and cancer detection, and how AI can improve harvests and the human experience.
With this comprehensive collection of content, Mouser is enabling engineers to stay informed about the rapidly changing world of AI technology, allowing them to explore more reliable and efficient automation systems while considering potential challenges and risks. The content stream grants access to free educational content, such as eBooks, blogs and articles, making it easy for designers to discover emerging trends within AI. In addition, Mouser's website provides a wide selection of products, technical information, reference materials and data sheets for engineers interested in designing for AI applications, including edge-based computing, healthcare and more.
"Our AI resource page is specifically designed to help engineers stay abreast of the latest developments in this fast and ever-evolving field," explains Kevin Hess, Senior Vice President of Marketing. "We are committed to providing engineers with an unparalleled selection of products and content resources to help them learn more about this topic and other subjects at the forefront of today's technology,"
With Mouser's AI resource page, customers can find the latest products and industry information quickly and easily – all in one place. Additionally, Mouser stocks the industry's widest selection of semiconductors and electronic components, including the following solutions for artificial intelligence applications:
For the latest on solutions for artificial intelligence, visit https://resources.mouser.com/artificial-intelligence/.