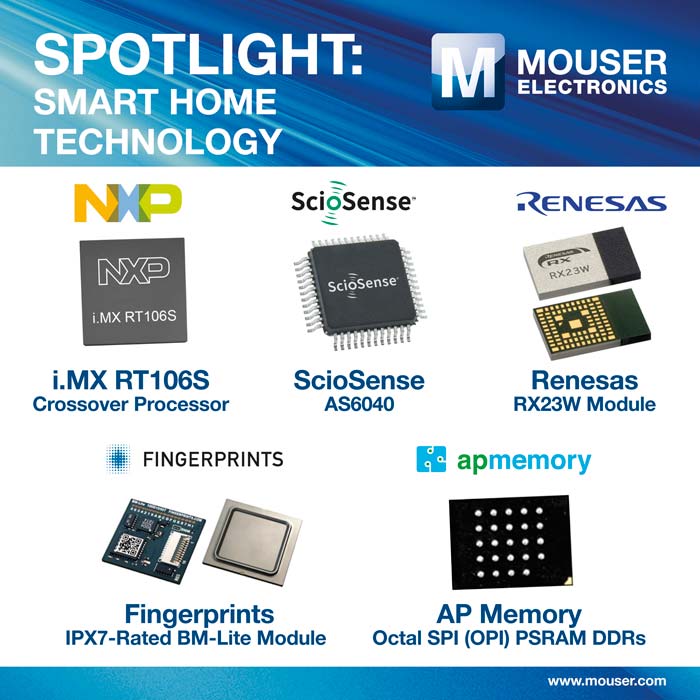 Mouser Electronics, Inc., the New Product Introduction (NPI) leader empowering innovation, is expanding its extensive portfolio of smart home solutions from a wide range of manufacturers, including products from NXP Semiconductors, Fingerprints, AP Memory, ScioSence and Renesas Electronics. The new products and technologies enable designers to add intelligence to everything from gas meters to washing machines — improving metering, proximity sensing and data processing.
Product highlights available from Mouser include the following:
Featuring an advanced implementation of the Arm® Cortex®-M7 core, the MX RT106S crossover processor from NXP offers the high CPU performance and real-time response required for embedded local voice assistants and other smart appliance applications. The NXP SLN-LOCAL2-IOT Solution is a cost-optimised reference design and production-ready software development kit that helps to reduce time-to-market and development effort.
The Fingerprints IPX7-rated BM-Lite module offers a comprehensive embedded solution for increased security and enhanced ease of use. The BM-Lite development kit features all the hardware necessary to develop security and access control solutions, including door locks and home safes.
Designed for residential metering applications such as gas and water, the ScioSense AS6040 is a single-chip ultrasonic flow meter comprising four system blocks: supervisor, front-end, post processing and interface. The supporting AS6040 development tool enables quick and easy start-up and evaluation and offers user-friendly configuration. 
The compact Renesas RX23W module offers full Bluetooth®0 Low Energy support for system control and wireless communication on IoT endpoint devices. With CE (Europe), FCC/ISED (North America), Radio Law (Japan), and Bluetooth SIG certifications, the RX23W module removes the need for additional RF design work, tuning, or specialised RF knowledge, shortening new product development time.
Mouser stocks the industry's widest selection of products from over 1,100 manufacturer brands. Additionally, the global authorised distributor provides a wealth of engaging articles, eBooks, applications notes, and more to support engineers developing smart home applications: