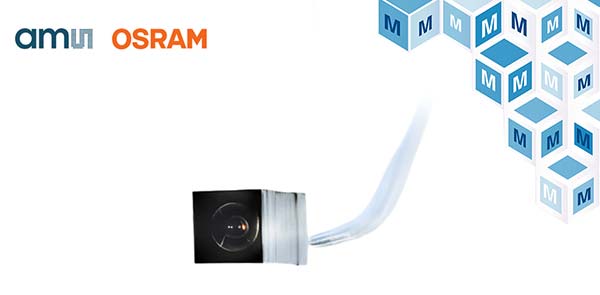 Mouser Electronics, Inc., the New Product Introduction (NPI) leader™ empowering innovation, is now stocking the NanEyeM miniature camera module from ams OSRAM. The NanEyeM is the world's smallest single-use digital camera module with a digital output for medical endoscopes, helping to ensure high levels of sterility and reduce the likelihood of cross-contamination.
The ams OSRAM NanEyeM camera module, available from Mouser Electronics, is a miniature image sensor for vision applications where small size is a critical factor. With a footprint of just 1.0 mm², the NanEyeM delivers high-quality, high-frame-rate images using a 2.4µ rolling shutter pixel at a resolution of 320×320 without requiring coax or shielded cable. The module offers variable frame rates from 4 fps to 49 fps for smooth imaging across a variety of standard interfaces, while the lens combines a wide field of view (FoV) with an extended depth of field (DoF), reducing distortions and delivering a sharp and accurate image.
The module's low voltage differential signaling (LVDS) serial interface provides a high signal-to-noise ratio (SNR) digital output, enabling signals over a cable length up to 3 m.
To learn more, visit https://www.mouser.com/new/ams-osram/ams-naneyem-miniature-camera-modules/.