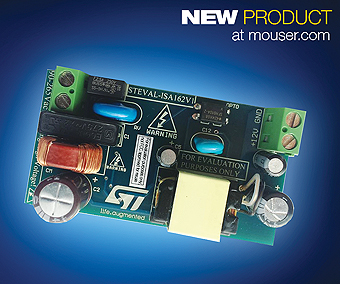 Mouser Electronics, Inc. is now stocking the STEVAL-ISA162V1 Evaluation Board from STMicroelectronics. This new evaluation board implements an isolated flyback (12V/0.84A) 10W wide-range mains developed for general-purpose applications. The core of the application is the VIPer25HD, an off-line, high-voltage converter from the ST's VIPerPlus family.
The ST STEVAL-ISA162V1 Evaluation Board, available from Mouser Electronics, includes an onboard VIPer25HD IC with a custom-designed, 800V rugged power MOSFET, current-mode PWM logic, and a zero current detection (ZCD) block for quasi-resonant operation. The power MOSFET also integrates a high-voltage startup generator, allowing the IC to connect directly with input mains without requiring a resistor to reduce the voltage.
The VIPer25HD IC operates in quasi-resonant mode with valley switching, enabling low electromagnetic interference (EMI) emission and safe behavior in case of short circuit. The IC features high-level protection including dual-level overcurrent protection, overvoltage and overload protections, hysteretic thermal protection, soft-start, and safe auto-restart after any fault-condition removal.
The STEVAL-ISA162V1 Evaluation Board can help reduce BOM costs and time-to-market when creating solutions such as power adapters for mobile devices, industrial power, and switched-mode power supplies (SMPS) for household appliances.
With its broad product line and unsurpassed customer service, Mouser caters to design engineers and buyers by delivering What's Next in advanced technologies. Mouser offers customers 21 global support locations and stocks the world's widest selection of the latest semiconductors and electronic components for the newest design projects. Mouser Electronics' website is updated daily and searches more than 10 million products to locate over 4 million orderable part numbers available for easy online purchase. Mouser.com also houses an industry-first interactive catalog, data sheets, supplier-specific reference designs, application notes, technical design information, and engineering tools.
Mouser Electronics
www.mouser.com