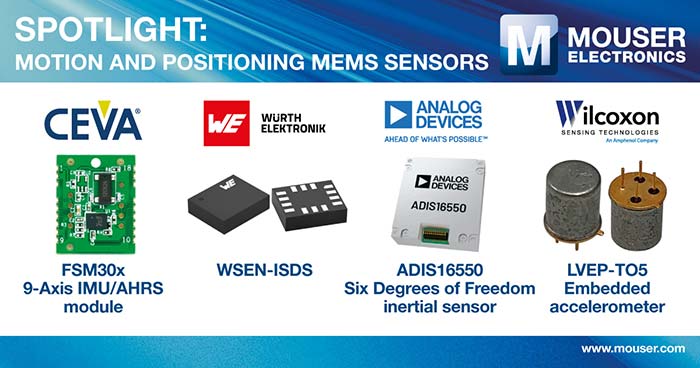 Mouser Electronics, Inc., the industry's leading New Product Introduction (NPI) distributor with the widest selection of semiconductors and electronic components™, expands its range of motion and positioning MEMS solutions.
The continued growth of technology, and its closer integration into everyday life, has heightened the importance of a device's ability to perceive its surroundings. Consumer applications, such as smartphone navigation and video game controllers, rely heavily on components like accelerometers and gyroscopes for locational and control information. In industrial settings, the significance of such sensors is also important. Gyroscopes, accelerometers, combined inertia measurement units (IMUs), and attitude and heading reference systems (AHRSs) all play a critical role in ensuring the effectiveness and safety of solutions ranging from automation and drones to navigation systems and platform stabilisation.
New motion and positioning product highlights available from Mouser include the following:
In Q2 2023, Mouser launched almost 30,000 new parts ready for shipment. To see more new innovative products, visit https://info.mouser.com/new_Products/.