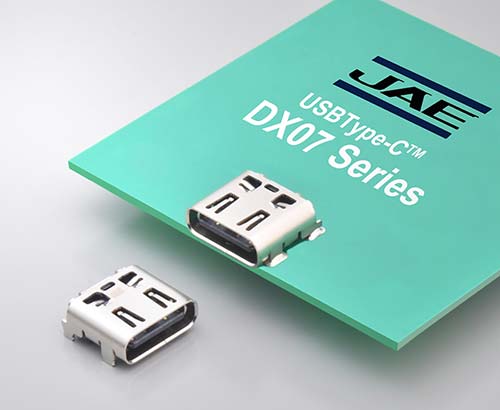 With the launch of USB4 version 2.0, transfer speeds of up to 80 Gbps are possible – an increase of 400 %. This specification is based on the concept of tunneling, which enables the combination of several protocols via a single interface and thus provides a significant increase in flexibility. Depending on the device, the transmission of USB 3.2 data and charging/storage information (PCIe) or display connections (DisplayPort) is thus feasible. The continuation of the USB Type-C® form factor ensures backwards compatibility. Nevertheless, to meet the new signal integrity requirements for USB4 and to be certified for use in USB4® devices at 40 Gbit/s, JAE developed completely new and improved connectors and cables with the DX07 Series USB4®, available at www.rutronik24.com.
The series includes the following components:
Resecptacle connectors as onboard (hybrid or SMT) and mid-mount (SMT) versions:
Here the internal design has been optimized to improve signal integrity performance. A new feature is that connectors must now successfully pass SI tests to obtain USB4 40Gbps (Gen 3) certification.
The DX07S024JAAR1100, for example, is an I/O connector that can be used in 24 positions in a flexible, right-angle manner. With a maximum rated current of 5 A and a rated voltage of 48 Vrms, as well as an initial contact resistance of 40 mΩ or insulation resistance of at least 100 MΩ, this component is suitable for use in PCs, tablets, VR/AR and SSD applications.
JAE's connector has been included as a Golden Plug in the official test fixture for USB4 certification test. Important: Connectors cannot receive direct USB4 40 Gbps certification. USB 3.2 Gen 2 certification is the highest possible performance certification for connectors and can be used in USB4 40Gbps certified harnesses. JAE has developed a new connector with improved SI performance and a thermoformed housing specifically for this application.
JAE developed a USB4 40 Gbps certified passive harness.
Overview of available models with USB4 certification:
Part number

Features

TID (Test ID)

Receptacle
DX07S024XJ4
C / H 3.4 mm

On-board

Hybrid contact

7420
DX07S024XA8
C / H 3.4 mm

On-board

Hybrid contact

8315
DX07S024JAA
C / H 1,57 mm

On-board

2-row SMT

ThunderboltTM 4 certified

4729
DX07B024JAA
C / H 0,47 mm

Mid-mount

2-row SMT

ThunderboltTM 4 certified

5067
DX07BD24JJ4
C / H -0,1 mm

Mid-mount

2-row SMT

5362
Plug
DX07P022FA1
For cable harness

22 Positions

Deep drawn shell

4025
Cable harness
DX07880B08

P*****

Typ-C⇔Typ-C

Passive

Cable 80 cm length

SPR compatible

4636
DX07881B10

******

Typ-C⇔Typ-C

Passive

Cable 100 cm length

SPR compatible

7919
 Examples of applications:
Smartphones, tablets
PCs
Digital photo and video cameras
Bluetooth earphones/headphones
VR/AR headsets
Monitors
Hubs and sockets
USB chargers
Printers
POS terminals
Powerbank
For more information about the DX07 series USB4® by JAE and a direct ordering option, please visit our e-commerce platform at www.rutronik24.com.