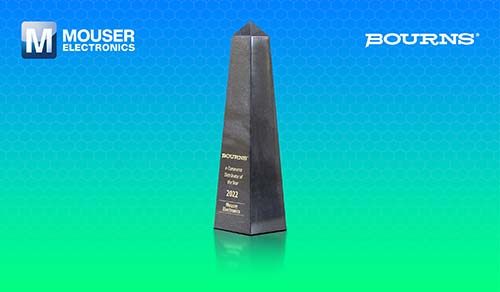 Mouser Electronics, Inc., the industry's leading New Product Introduction (NPI) distributor with the widest selection of semiconductors and electronic components™, proudly announces that it has been named 2022 e-Commerce Distributor of the Year by Bourns® Inc., a leading manufacturer and supplier of electronic components. This is the seventh time that Mouser has received this award. Bourns awarded Mouser for exceeding its sales goals and having strong year-over-year growth, particularly through Mouser's website and digital marketing programs.
"It is a tremendous honor and testament to our strong business relationship to receive this top e-Commerce award from Bourns, our valued manufacturer partner," said Jeff Newell, Senior Vice President of Products at Mouser Electronics. "Over the last two decades, our two companies have shared a common goal of delivering best-in-class service and quality products to our customers. We look forward to continued mutual success."
"It is our distinct pleasure to recognize Mouser for contributing to Bourns success through their expanding range of advanced and original eCommerce supplier engagement initiatives. Bourns greatly values the Mouser team's ingenuity in helping to drive demand for our products and influence design wins," said James Harrington, Senior Vice President, Worldwide Sales at Bourns. "As we celebrate a long collaborative history together, we also look forward to further strengthening our channel sales partnership with Mouser. By combining the talented resources and support from both companies, we continually give our mutual customers greater access to the latest advanced electronic component solutions from Bourns — all engineered to meet dynamic application requirements and keep them competitive."
Mouser is an authorized distributor for Bourns and continues to be a leading partner in offering Bourns' newest products. Mouser stocks an impressive array of Bourns circuit protectors, sensors, controls, and resistive components. Bourns is known for their innovative development of new technologies and the ability to consistently expand manufacturing capabilities to meet their customers' changing global needs.
Mouser has received multiple top awards in recent years from Bourns, including the e‑Commerce Distributor of the Year award for 2021, 2019, 2018, 2015, 2014 and 2012, as well as 2016 Distributor of the Year (Catalog Partner) in EMEA, 2012 European Distributor of the Year POS Growth Award and the 2012 Asia Distributor of the Year POS Growth Award.
For more information about Bourns products available at Mouser, visit https://www.mouser.com/manufacturer/bourns/.