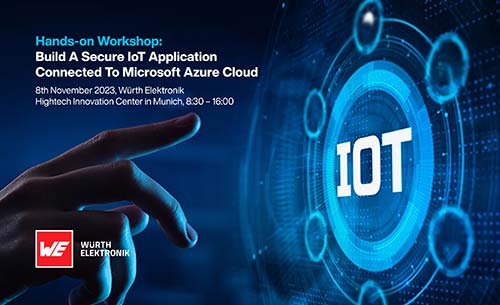 Mouser Electronics, Inc., the industry's leading New Product Introduction (NPI) distributor with the widest selection of semiconductors and electronic components™, will be organising a free workshop to help engineers developing IoT applications to accelerate their projects with secure IoT cloud deployment. Mouser has partnered with Würth Elektronik to hold a limited-space "Build A Secure Rapid IoT Application Connected To Microsoft Azure Cloud" workshop, which will take place in Munich on 8 November.
"IoT innovation is playing an active role in shaping today's businesses and consumer trends, and Mouser is continuously working with leading suppliers to support design engineers from prototyping to production," says Mark Patrick, Director Technical Content, EMEA at Mouser Electronics. "With this workshop, we are offering hands-on experience with the latest tools and technologies to help innovators jumpstart their IoT projects confidently."
Participants attending the workshop will gain the skills to create a rapid end-to-end IoT solution with secure cloud connectivity to Microsoft Azure to empower IoT data utilisation. Attendees will receive practical advice from three experts in IoT hardware development, wireless connectivity, and secure IoT cloud deployment. Guest speakers include Rafik Mitry, Technical Marketing Engineer at Mouser Electronics, Adithya Madanahalli, IoT Engineer at Würth Elektronik eiSos and Chris Jones, Director of Applications at Crypto Quantique.
The speakers will demonstrate how IoT project development can be accelerated using the Calypso IoT design kit from Würth Elektronik. Participants will be provided with one of these powerful IoT design kits to use during the workshop, and will be able to keep it as their own resource, giving them all the necessary tools and components for secure IoT development in the future.
The Calypso IoT design kit is ideal for prototyping sensor-to-cloud IoT applications, allowing the user to monitor temperature, absolute pressure, relative humidity and 3-axis acceleration. The Adafruit Feather-based board features the M0 Feather stacked with Calypso Wi-Fi FeatherWing, the Sensor FeatherWing, and the OLED FeatherWing. The kit also offers plug-and-play secure connectivity to Azure IoT Central.
As the workshop is a live event, attendance is limited to 50 participants. To register and find out more, visit: https://emea.info.mouser.com/wuerth-iotcloud-workshop