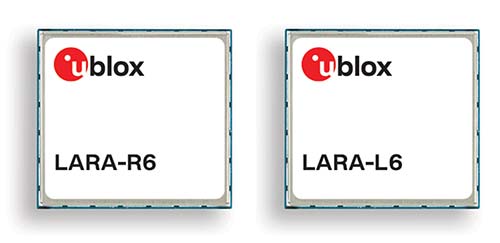 u-blox (SIX:UBXN), a global provider of leading positioning and wireless communication technologies and services, has announced today that its LARA-R6 LTE Cat 1 and LARA-L6 LTE Cat 4 cellular module series have become the first in the market to be successfully tested to comply with the RED article 3.3 d/e/f requirements using ETSI EN 303 645 standard, and to achieve the RED cybersecurity certification. As cyberattacks and privacy concerns grow, there's an urgent need for wireless devices and products to feature enhanced security. With stricter regulations on the horizon, manufacturers are therefore racing to meet the highest security standards.
u-blox is proud to announce a significant achievement, becoming the first module maker in the market to have its LTE Cat 1 and LTE Cat 4 cellular modules certified by the European Union's prestigious Cybersecurity Certification, which ensures a high level of security and privacy for smart devices. While the European Union (EU) will mandate the RED (Radio Equipment Directive) cybersecurity certification for all wireless products only by summer 2025, u-blox has already made it an integral part of its product design and development to get ahead of the curve.
The European Telecommunications Standards Institute (ETSI) is the recognized regional standards body for telecommunications, broadcasting and other electronic communications networks and services. The ETSI EN 303 645 standard, also known as the basis for the RED cybersecurity certification, sets the gold standard for device security in the face of modern threats even outside Europe.
"As a Swiss company, quality and security is in our DNA. At u-blox, we consider security of the utmost importance and therefore stay abreast of the evolving regulatory landscape to ensure that our products are always compliant with the latest security guidelines. We include security in all stages of development and approach security regulations compliance through established industry standards, making it easier for our customers to develop secure and top-quality products," says Martin Leach, Head of Product Centre Cellular, at u-blox, "A special thanks to Eurofins E&E, our partner, who played a pivotal role in this achievement."
Eurofins E&E is delighted to have had this opportunity to work with u-blox on this project and their proactive approach and dedication to product security and quality is industry-leading.
Eurofins E&E provides an extensive range of cybersecurity certification, testing and evaluation services covering standards such as ETSI EN 303 645, IEC 62443 and EU Notified Body services for the RED Article 3.3 d/e/f.
u-blox is setting the bar high for the industry. Moving forward, all u-blox cellular modules will comply with the ETSI EN 303 645 cybersecurity standard and all subsequent leading industry standards. This dedication ensures that customers can enjoy safer and more secure mobile-connected devices.