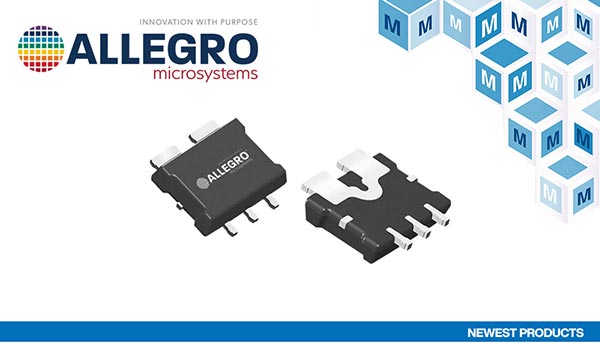 Mouser Electronics, Inc., the industry's leading New Product Introduction (NPI) distributor with the widest selection of semiconductors and electronic components™, announces a new global distribution agreement with Allegro MicroSystems, a global leader in power and sensing solutions for motion control and energy-efficient systems. Through the agreement, Mouser will offer customers Allegro MicroSystems' broad range of sensor ICs, drivers, regulators, and power modules, which provide ideal solutions for automotive, industrial, consumer, and energy and infrastructure applications.
"With this distribution deal with Mouser Electronics, we can now offer our highly efficient products to a much larger global audience with the high level of service our existing customers expect," said Kyle Purinton, Sr. Director, Global Channel Sales at Allegro MicroSystems. "We look forward to a long and healthy partnership between our companies."
"Mouser customers demand efficient, reliable products, and Allegro MicroSystems meet and exceed these expectations," said Kristin Schuetter, Mouser Electronics' Vice President of Supplier Management. "This agreement gives design engineers an excellent avenue for developing energy-efficient solutions across a broad range of industries and applications."
Mouser now offers Allegro MicroSystems' high-precision devices, including switches and latches, position sensors, current sensors, and magnetic speed sensors. The ACS72981 linear Hall effect current sensor ICs offer precise AC or DC sensing solutions with response times of less than 2 μs to enable overcurrent fault detection for safety-critical applications. The ACS37612 coreless Hall effect current sensor ICs offer an AC and DC sensing solution without requiring a magnetic concentrator core or shield. The ACS37612 sensor ICs measure currents with a typical accuracy of 1%, providing reliable performance for automotive and industrial applications.
The A31315 3D magnetic position sensor ICs feature on-chip angle calculation, supporting a wide range of non-contact rotary and linear position measurement for automotive, industrial, and consumer applications. Allegro MicroSystems' single-output regulators provide high-temperature operation while minimizing power loss, offering robust performance for battery-powered systems, audio systems, and infotainment applications.
To learn more, visit https://www.mouser.com/manufacturer/allegro/.