Microchip announces the release of its fourth-generation JukeBlox® platform that enables audio brands to develop high quality,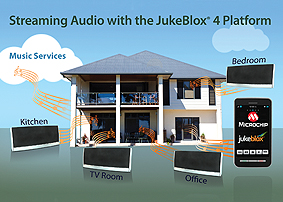 low-latency products such as standalone or multi-room wireless speakers, AV receivers, mini and micro systems, and sound bars. Microchip's new JukeBlox 4 Software Development Kit (SDK) in combination with its CY920 Wi-Fi® & Bluetooth® Network Media Module includes next-generation dual-band Wi-Fi technology, MultiZone/multi-room features, AirPlay® and DLNA® connectivity as well as integrated music services to enhance the consumer's listening experience. Additional cost-saving features lower bill of materials and enable competitively priced consumer products.
The certified CY920 Wi-Fi and Bluetooth Network Media Module is based on Microchip's new, low-cost DM920 Wi-Fi Network Media Processor, which integrates 2.4 GHz and 5 GHz 802.11a/b/g/n Wi-Fi, high-speed USB 2.0 and Ethernet connectivity. Speakers using the 5 GHz band avoid the RF congestion found in the 2.4GHz band, resulting in fewer audio drops and the ability to use a greater number of speakers in multi-room/whole-home audio systems.
The DM920 Wi-Fi Network Media Processor also features integrated dual 300 MHz DSP cores that can reduce or eliminate the need for costly standalone DSP chips. An easy-to-use, PC-based Graphical User Interface (GUI) simplifies the use of a pre-developed suite of standard speaker-tuning DSP algorithms, including a 15-band equalizer, multiband dynamic range compression, equalizer presets and various filter types. Engineers with no DSP code-writing experience can easily implement DSP into their designs, while experienced DSP engineers can harness the full power of an industry-standard DSP architecture. With JukeBlox 4, product developers can build solutions equipped to directly stream cloud-based music services such as Spotify® Connect, Qobuz, Rhapsody, Deezer and many others while using mobile devices as remote controls.
Microchip Technology
www.microchip.com/JukeBlox-Page-120814a