Microchip announces a new series of its low-cost, high pin-count 32-bit PIC32 microcontrollers (MCUs). By blending the key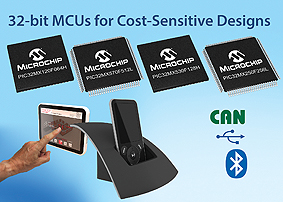 features of Microchip's existing PICM32MX1/2 and PIC32MX5 MCU families, this latest PIC32MX1/2/5 MCU series delivers designers the benefits of a rich peripheral set for a wide range of cost-sensitive applications that require complex code and higher feature integration at a lower cost.
With up to 83 DMIPS performance and large, scalable memory options from 512/64 KB Flash/RAM to 64/8 KB Flash/RAM, these new PIC32MX1/2/5 MCUs are ideal for executing the Bluetooth® audio software required for low-cost Bluetooth audio applications, such as speakers, consumer music-player docks, noise-cancelling headsets and clock radios. Flexible, easy-to-use CAN2.0B controllers are also integrated into these MCUs, with DeviceNet™ addressing support and programmable bit rates up to 1 Mbps, along with system RAM for storing up to 1024 messages in 32 buffers. This feature allows designers to easily employ CAN communication schemes for industrial and automotive applications.
The new series boasts a wide variety of additional features, including four SPI/I2S interfaces for audio processing and playback, a Parallel Master Port (PMP) and capacitive touch-sensing hardware for graphics and touch-sensing interfaces; a 10-bit, 1 Msps, 48-channel Analogue-to-Digital Converter (ADC); as well as a full-speed USB 2.0 Device/Host/OTG peripheral.
In addition to their rich mix of integrated hardware peripheral features, these MCUs are supported by Microchip's powerful MPLAB® Harmony software development framework, which simplifies the software development process by integrating the licence, resale and support of Microchip and third-party middleware, drivers, libraries and real time operating systems (RTOSs).
Microchip Technology
www.microchip.com/PIC32MX-Page-110314a