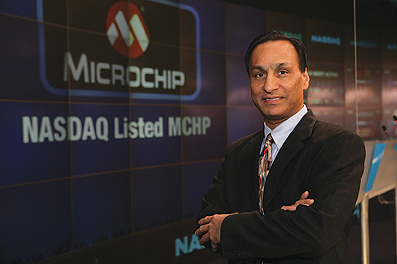 2014 Market Share Grows in 8, 16 and 32-bit MCUs; Breaks Into Top 10 for 32-bit.
Microchip Technology Inc., a leading provider of microcontroller, mixed-signal, analog and Flash-IP solutions, has reclaimed the number-one position in worldwide 8-bit microcontroller (MCU) revenue, according to industry analyst firm Gartner's just-published 2014 rankings. This validates Microchip's unwavering commitment and innovation efforts for its 8-bit PIC® microcontroller portfolio.
While many MCU vendors have deemphasized their 8-bit offerings in recent years, Microchip has continued to innovate across all of its 8-bit, 16-bit and 32-bit product lines. And it continues to grow market share in all three areas, according to Gartner's 2014 report. In the 16-bit MCU market, Microchip was the fastest-growing supplier among the top 10 in 2014, growing at greater than 2X the rate of any of the other top 10 companies. Its 32-bit MCUs broke into the top 10 ranking of 32-bit MCU suppliers for the first time in 2014, based on 42.3% growth.
"We are pleased to report that Microchip has regained the #1 position for 8-bit microcontrollers," said Steve Sanghi, Microchip's president and CEO. "Four years ago, it took the merger of three Japanese semiconductor giants – NEC, Hitachi and Mitsubishi in the form of Renesas – to knock us off the #1 spot for 8-bit MCUs. We said at the time that we would work relentlessly to gain market share and wrest back the #1 spot. Following their merger in 2010, Renesas' 8-bit MCU business was 41% larger than ours. In every year since 2010, we closed the gap, and in 2014 we regained our leadership position, finishing 10.5% higher than Renesas."
8-bit PIC MCUs provide developers with an easy migration path from 6 to 100 pins, with little or no code change required. This MCU portfolio offers product families with varying levels of intelligent integration, including a host of Core Independent Peripherals, which require little to no CPU intervention, freeing the core to perform other application tasks. Also integrated are Intelligent Analog peripherals, including op amps, comparators, ADCs, DACs and CTMUs; Human Interface peripherals for LCD displays and mTouch® capacitive sensing; and Communications channels for Ethernet, I2C™, SPI, USB, CAN and LIN (EUSARTs). The MPLAB® Code Configurator plug-in for Microchip's IDE makes it easy to take advantage of all this integration, by generating seamless, easily understood C code for quick insertion into projects.
Microchip Technology
www.microchip.com/Homepage-042715a